Fire fund nearly doubled heading into wildfire season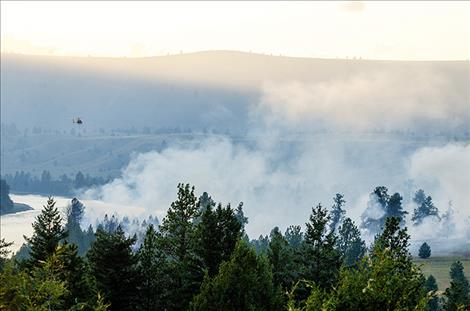 News from the Governor's Office
MONTANA – Gov. Steve Bullock announced that Montana's fire fund will be nearly doubled to $66.5 million, up from $36 million, heading into the wildfire season.
"Montanans can rest assured that due to strong fiscal management by the state our budget is well positioned heading into the wildfire season," said Bullock. "Not only will we protect firefighters and our communities when fire strikes, we will also protect taxpayer dollars and continue to invest in the priorities Montanans expect with a robust and balanced budget."
With prudent management through a fiscally challenging biennium, state agencies under Bullock finished the fiscal year under budget. This allows for a $30 million transfer into the fire suppression fund, almost doubling the amount of money available this biennium to battle wildfires. The general fund reversion transfer will take place in August, in accordance with 76-13-150, MCA.
In 2013, Bullock proposed and passed House Bill 354 to change the way wildfires are paid for by the state, which seeks to dedicate dollars to the fire suppression fund in advance of wildfire season. This legislation included that reversions by state agencies in excess of 0.5 percent of total general fund be transferred to the fire fund.
The total unassigned general fund balance starting fiscal year 2020 is more than $358 million. This will allow additional funds to flow into the Budget Stabilization Reserve Fund, created in the 2017 legislative session. The balance in this fund is also expected to almost double to approximately $100 million allowing for greater stability of state reserves in case of a fiscal downturn.
Heading into the 2019 legislative session, Bullock proposed in his budget state reserves of $300 million. In the 2019 legislative session, Bullock passed $15 million in general fund revenue enhancers and vetoed unnecessary spending that would have cost the state general fund more than $85 million over the next four years to help ensure that the state's budget stays on track through the next two years and beyond.