Gieber ordered to pay nearly $200,000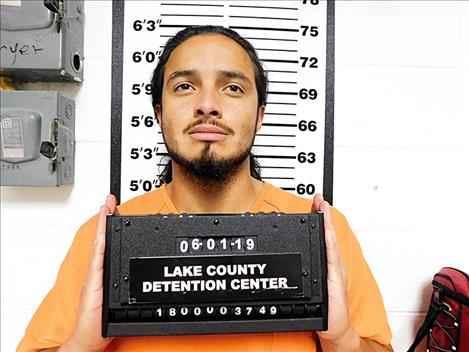 A Polson man has been ordered to pay restitution of $197,385.97 for breaking into Polson storage units and stealing thousands of dollars in personal belongings, including about $150,000 in gold coins.
Kenneth Charles Gieber, 21, pled guilty to felony burglary during a change of plea hearing at District Court in Polson on Aug. 14.
According to court records, on Jan. 16, 2018, the owners of a storage unit business in Polson reported break-ins to several units. A Polson police officer arrived to find the locks cut to several storage units.
The renter of one of the affected units reported numerous items missing, including $150,000 in Krugerrands, other rare coins, firearms, power tools, sword collections, and other rare items.
On Jan. 18, 2018, authorities in Kootenai County, Idaho, reported arresting Gieber for the unlawful discharge of a weapon. He was allegedly in possession of some of the stolen items, including rare coins, firearms and a large set of bolt cutters. Gieber was also in possession of a key to a storage unit in Polson that belonged to his sister.
On Jan. 22, 2018, the rental unit owners provided Polson police with video footage of surveillance cameras that showed what appeared to be Gieber's sister handling some of the items that may have been stolen.
When questioned, the sister implicated her brother and a man named Nicholas Gaither. Gaither was arrested in Missoula County after he had attempted to sell Krugerands to area coin shops. A search of his vehicle turned up more of the stolen items.
Gaither told investigators that he had already sold about $20,000 worth of Krugerands. Gaither also admitted to his role in the theft of hundreds of thousands of dollars in rare coins, collector's watches, guns, antique guns, family heirlooms and other valuable items from the storage unit. The victim told the court that some of the items stolen may never be recovered and were handed down through generations, including a rifle from the Revolutionary War.
On April 4, 2018, Gaither was scheduled to be released from jail for the incident when detention staff found him attempting to hide a baggie under his foot as he was changing into his street clothes.
The baggie contained what appeared to be a black tarry substance that Gaither said he knew was heroin. He told detention staff that he found the baggie sticking out of a vent in the jail's exercise room and that it was worth a lot of money. He admitted to staff that the baggie dropped out of his underwear as he was dressing out of his orange jumpsuit to be released. The baggie of heroin weighed over 30 grams, according to photographic evidence.
Gaither would have the imposition of sentencing deferred for a period 10 years, which means that if he stays out of trouble during that time then he stays out of jail. On April 4, the deferred sentencing was changed when the heroin was found. Gaither was committed to the state Department of Corrections for total of 10 years with four years suspended and also ordered to pay restitution of $197,385.97.
The plea agreement for Gieber calls for a joint recommendation of six years with the state Department of Corrections with three years suspended in addition to the restitution.
In an unrelated matter, Gieber was convicted of possessing methamphetamine in September of 2016. His plea agreement in that case calls for two years with the DOC with all of that time suspended to run consecutive to the burglary case.