Glacier welcomes summer's last artist-in-residence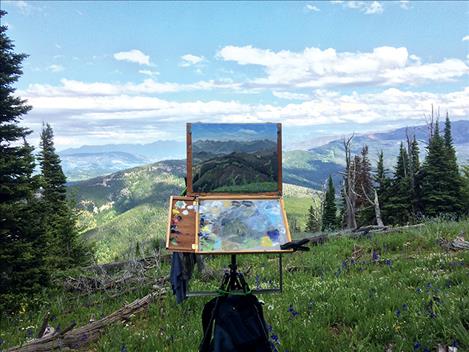 News from Glacier National Park
MONTANA – Glacier National Park's final artist-in-residence for 2019, Nic Fischer, will paint the park as it transitions from summer to autumn.
Fischer, a landscape painter and illustrator who lives in Bozeman, combines field studies with satellite imagery to create what he calls a "nearly infinite vantage point." Fischer says he uses his art as a way of "presenting the eye a journey not otherwise available in a single image … I can reorganize and manipulate terrain while maintaining accurate relationships within a vast landscape as I develop a final composition."
During his residency in the park, Fischer plans to paint from the summit of Edwards Mountain, a 9,000-foot peak west of Sperry Glacier. Fischer will create a "foundation of reference" from which to execute a large and complex landscape painting celebrating the reopening of Sperry Chalet and its majestic surroundings.
Fischer arrived at Glacier National Park on Aug. 26 and will stay here until Sept. 20. During that time, he also will present three free public programs in the park and local community.
Friday, Sept. 6: Artist Presentation at 5:30 p.m. to 6:30 p.m. at the Hockaday Museum of Art, 302 2nd Ave. E, Kalispell. Fischer will discuss his background, artistic process and plans in Glacier National Park. Monday, Sept. 9: Artist Presentation at 3 p.m. to 4:00 p.m. at the Many Glacier Hotel Lucerne Room. Wednesday, Sept. 18: Artist Presentation at 3 p.m. to 4 p.m. at Lake McDonald Lodge Auditorium.
Fischer is a native of Milwaukee. He headed west after high school and has lived in places like Death Valley, the Grand Canyon and Yellowstone – all locations that fueled his interest in epic landscapes. He studied art at the Savannah College of Art and Design in Savannah, Georgia, majoring in illustration and painting.
Fischer's work in Glacier wraps up the 2019 edition of the park's Artist-In-Residence program, which earlier hosted artists Amory Abbott and Chad Farnes.
Glacier National Park will begin accepting applications later this year for the 2020 Artist-in-Residence program. Learn more about the program on the park's Artist-in-Residence page.