Veterans Day celebrated by children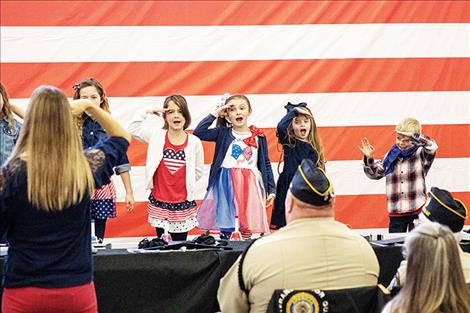 RONAN – In honor of all those who fought and continue to fight for our freedoms, students at Glacier View School in Ronan thanked veterans for their service and showed their appreciation in a special ceremony last Thursday.
"It makes my heart swell to know that we are not forgotten," said Russell Harbin, U.S. Army veteran and Mission Valley Honor Guard member. "Honestly, it fills me with great pride to know that our youth are being taught about service to others, as well as to their country."
Since 2013, students from kindergarten through eighth grade at the school have shown their pride and respect for all former and current military service members by assembling together a Veterans Day presentation.
The special tribute started with the Mission Valley Honor Guard presenting the colors. The students led the Pledge of Allegiance and sang the "Star Spangled Banner." Once the National Anthem ended, students sang a medley of classic patriotic songs like "You're a Grand Old Flag," "Mine Eyes Have Seen" and "God Bless America."
Students furthered honored veterans by reciting the poem "We Will Remember." The fifth-through eighth-grade girls performed a skit entitled "A Soldier's Mother." The fourth-through eighth-grade boys did a presentation of a "Hero's Tribute."
World War II veteran Jim Seville was impressed with the ceremony. "I am so pleased to be part of this program," he said. "It means so much (that) the school puts this on for us. These kids are great. I just love them."
The kindergaten through eighth-grade classes closed the program by singing "Unsung Heroes." Glacier View School principal Bonnie Feese thanked the veterans for their sacrifice, commitment and service to our country.
After the program, the students continued to show their gratitude to the veterans by serving a hearty lunch of chili and cornbread, along with a selection of home-baked pies.