Montana ShamRockers to present concert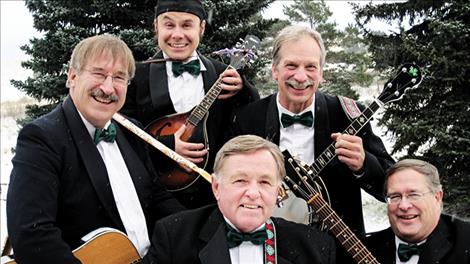 News from Port Polson Players
POLSON – As their final offering of 2019, Polson's own Montana ShamRockers will present a holiday concert on Thursday, Dec. 12, at Polson's beautiful theatre on the Lake. Curtain time is at 7 p.m. Reservations are not needed for this free family event.
According to band members, this year's show promises to be full of surprises, with beloved Celtic tunes from popular Christmas shows, plus a salute to veterans. The concert features lots of music, a bit of history, and of course, the group's signature spark plug wit.
You'll get to sing along with beloved carols as "I Saw Three Ships," "O Come All Ye Faithful," "God Rest Ye Merry Gentlemen," "O Holy Night" and "We Three Kings," as well as ShamRockers originals like "Bright Christmas Day," "The Bells," "Conversion" and "Teddy Bear." The list includes songs from the popular "Christmas with Lewis and Clark" show, as well as some more contemporary favorites.
The Montana ShamRockers have thrilled audiences throughout the region, including two musical tours of Ireland, for seventeen years. The music on their four acclaimed albums has been called by the Folk and Acoustic Music Exchange, "Bogglingly infectious and heartening … a revelation." They have opened for several world-renowned Irish musical acts and appeared at a number of international festivals, including MeagherFest '17, which they helped inaugurate.
For their advocacy of the arts in general and Irish culture in particular, they have been dubbed Montana's unofficial Goodwill Ambassadors.
For more information, contact the Port Polson Players theatre at 406-883-9212 or portpolsonplayers.com.