New fire truck on display at annual Charlo-Moise VFD fundraiser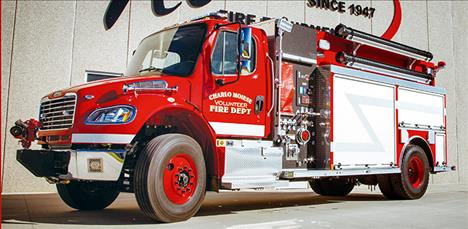 News from Charlo / Moiese Fire Department
CHARLO-MOIESE — The Charlo-Moiese Volunteer Fire Department would like to introduce a new piece of equipment to the department's fleet of apparatus. In early September we took ownership of a new 2019 Freightliner pumper-tender combo.
The truck can haul 1,500 gallons of water and has a 1,800 gallon port-a-tank to dump into, if needed, as a tender for water shuttles. The truck also comes with a 1250 gpm pump system. Two 1 and three-quarter inch attack hose lines are ready to be used, as well as the front monitor and rear booster reel, which can operate under a high-pressure setting. Foam is also available along with all other necessary firefighting equipment.
"When we ordered the truck we tried to get all of the bells and whistles that we could at the time. We were limited to some options as we only had one year to get the truck and were limited by the manufacturer to what was already built as stock units," said Fire Chief Joel Fuhrmann. The total cost of the truck was over $325,000. It took multiple grant applications to get the funding secured; $300,000 came as part of the FEMA-Assistance to Firefighter Grant Program. The rest of the money was paid for out of fundraiser money. We cannot thank enough the residents of Charlo and Moiese, as well as the entire Mission Valley who show up every April at our annual fundraiser. Without the local businesses who donate items to auction and for all who show up, eat dinner and make purchases at the fundraiser: we would not be able to afford a truck like this.
Once we got the truck from Heiman Fire in Sioux Falls, South Dakota, we participated in driver's safety training with the new truck. The CMVFD provides drivers safety refresher training every year to insure that all members feel comfortable with operating the different trucks.
Since the truck's arrival in Charlo we have installed a radio and added two SCBA packs. We finished getting all of the hose for attack lines installed as well as a hydrant supply line. We have trained with this truck a couple of times and will do more training in the near future. This truck has been a huge asset to our fleet and has already been used on multiple calls.
"We are extremely happy with this new truck. It is a huge asset to our fleet as it improves our services not just in the Charlo-Moiese area but it will help our ability to provide mutual aid to fire departments in Ronan, Mission and Dixon. Now if we need to provide a tender to another district we will have one truck left to cover calls in our district," explained Fuhrmann.
This truck will be on display at our upcoming annual fundraiser on April 11 at the Charlo School gym. All are welcome.