Local businesswoman embarks on 'mask making mission'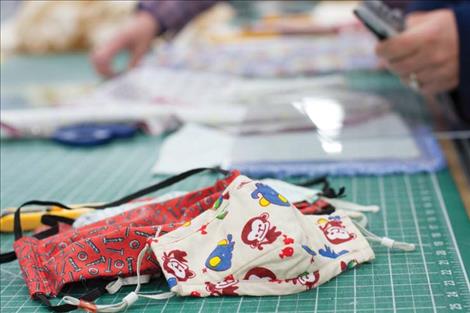 POLSON — With time on her hands and sewing expertise, local businesswoman CarolLynn Lapotka is undertaking production of protective face masks for healthcare workers.
A nationwide shortage of the protective face masks used by medical professionals has prompted her to action.
Lapotka, owner of handMADE MONTANA and ReCreate Designs, is familiar with taking used items and repurposing them. Actually, it's woven into her business model. Lapotka creates "one-of-a-kind clothing, accessories, and gifts made from upcycled bits and pieces. We see things not as they are, but what they can become."
These days she's seeing bolts of fabric and spools of elastic she's ordered become 3,000 protective face masks for healthcare workers.
"We are on a mask making mission," she said. "I figure if I start making them, then whoever needs them can have them."
She's using a pattern for a pleated mask approved by a Bozeman hospital with a slight modification. She modified the mask so it can tie around a person's entire head instead of behind their ears for comfort of longer wear. She's bringing her prototype to area hospitals to get feedback before she finalizes the design.
To help her get started, Lapotka is asking the public for donations of 100% cotton fabric. Donations must be freshly laundered and can be left in a bin outside the front door of her shop in downtown Polson at 212 Main Street. As the elastic is taking longer to acquire than planned, donations of 1/16 inch elastic are also welcome. People can participate in the mask making mission by helping sew, assemble, distribute or by contributing financially.
Those who'd like to sew can pick up assembly kits Lapotka plans to make available. She's also posting the pattern, directions and an instructional video for those who want to help.
While Lapotka doesn't plan to make money on her endeavor, she says donations to pay her employees are appreciated.
To get involved, visit the handMADE MONTANA facebook page and click the link to her COVID-19 Mask Making Mission.