Local internet providers support community during pandemic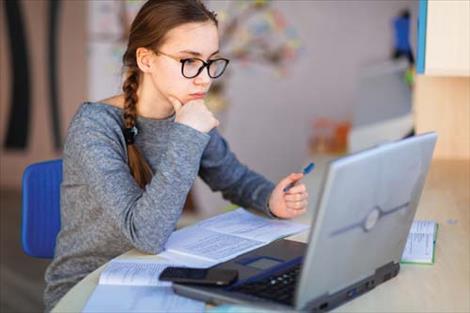 LAKE COUNTY – With schools and many businesses closed to prevent the spread of the coronavirus, Mission Valley residents are turning to the internet to continue essential activities.
People are using video calls and email to keep up with their work, students are using the internet to receive instruction and class materials to continue their education, and healthcare providers are using the internet to interact with patients. The internet is also a valuable tool for entertainment, connection and shopping.
Two local companies, Blackfoot Communications and Access Montana, are changing protocol and adding programs to make sure people have service.
According to Access Montana Assistant General Manager Michelle Marengo, her company knows that internet is becoming more essential than ever during the pandemic. They want to provide support.
"Our organization is very community-based, so we usually try to do what we can to help," Marengo said. "We knew a lot of people would be affected and need more internet support so we thought we could help our customers out."
Access Montana is offering financial relief for those who have had to get internet in order to complete activity disrupted by COVID-19. The company is providing free internet installs to residential and small business customers. New accounts can receive a $25 monthly credit. Existing customers who are increasing home internet use for school or work because of the pandemic also qualify for a $25 monthly credit. Those who qualify for the $25 credit toward services should call 406-676-3300 to apply.
In addition, Access Montana will avoid disconnecting internet service to those who have been economically impacted by COVID-19. Late charges will not be applied to account holders whose financial position has been impacted by COVID-19.
Blackfoot Communications is creating free public Wi-Fi hotspots so those who don't have internet at home can still do things that require an internet connection. There is one located in St. Ignatius at the corner of Third Avenue and Pierce Lane.
In a press release, Blackfoot Communications noted that the company hopes the hotspots will allow students to access online educational materials. When using a hotspot, members of the public should continue to follow social distancing guidelines by staying six feet apart and not gathering in large groups. The hotspots can be accessed from devices with Wi-Fi capabilities. The network will show up as "Blackfoot Public Wi-Fi" and does not require a password or payment for use.
Blackfoot Communications is also avoiding disconnecting internet and charging late fees for those impacted by the pandemic.
In response to the pandemic, Senator John Tester had doubled down on his efforts to improve access to internet in rural areas. He called on the Federal Communications Commission to ensure that all school-age children be provided access to the internet. The FCC has implemented the "Keep Americans Connected Pledge," which provides the guidelines local internet providers are following to avoid penalizing those who are unable to pay for internet access during the pandemic.