New owner brings continuity, energy to physical therapy practice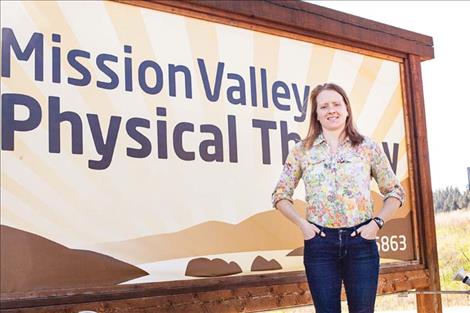 POLSON – Lindsy Campbell returned to her hometown to fulfill her dream of owning a physical therapy practice, and she's been at the helm of Mission Valley Physical Therapy for a few months now.
Campbell purchased the practice from physical therapist Shannon Nunlist and took over on Feb. 1. Campbell said she started thinking about purchasing the business less than a year ago when Nunlist decided to sell the practice. Campbell said she knew it was the right move. "I was interested," she said. "I didn't need any time to think it over."
According to Campbell, the two share a patient-centered approach to physical therapy that made the transition from one provider to the next smooth. "It worked out really well," Campbell said.
Campbell wanted to have her own practice so she could spend more time with each patient. She feels she provides higher-quality care when she can be flexible with her patients.
Campbell earned a Doctorate of Physical Therapy from the University of Washington in 2015. She specializes in treating spine injuries and providing women's pelvic floor physical therapy. After graduating, she worked as a physical therapist in California.
Before getting a doctorate, she graduated from Polson High School and the University of Montana. Campbell was a competitive cycler in college. Today, she is an avid biker, runner and skier.
Campbell hasn't always known she wanted to be a physical therapist. She experimented with emergency medicine before realizing that physical therapy was the path she wanted to take. She said, as an athlete, she became interested in how the body performs and wanted to support people's wellness.
"I'm interested in helping people be healthier in general," she said.
Campbell can also provide typical physical therapy services, like helping patients recover after injuries or operations to return to work. She can also provide pre-employment screenings to assess whether people's physical conditions are suitable for certain lines of work.
Soon after she took over the practice, COVID-19 disrupted the normal functioning of the practice. To adjust to social distancing guidelines Campbell has started seeing patients via video conference and making accommodations to keep all patients safe and healthy.
Campbell is taking new patients at this time. Those interested in seeing her should check in with their insurance provider to see whether they need a referral for a visit to a physical therapist. Those with questions can call the office at 406-883-6863.