Speech, hearing support helps improve communication skills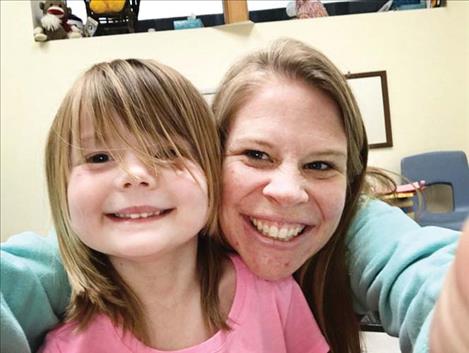 LAKE COUNTY – When Bella McKenzie was a baby, she knew what she wanted, but she had a hard time telling people what it was.
"We had a hard time understanding her, so she would scream," Bella's mother, Michelle McKenzie, said.
At a well-child visit when Bella was two, her doctor suggested that her frustration might stem from the fact that she was struggling to communicate. He referred her to a St. Luke Community Healthcare speech-language pathologist, who helped Bella learn to express herself.
The month of May is Better Speech and Hearing Month, which brings awareness to communication disorders and acknowledges the professionals who help people work through them.
Speech and hearing professionals help people work through cognitive, swallowing and voice disorders, in addition to other communication disorders. Speech pathologists support people who struggle with issues related to memory and attention. This support allows people to communicate and participate in social situations they might otherwise have been excluded from. People of all ages are eligible for support from speech and hearing support providers.
In March, just before her fourth birthday, Bella graduated from speech therapy, ready to navigate life using her new communication skills. Without that support, Bella might still feel frustrated and angry that she couldn't tell people what she wanted and needed.
Bella's speech pathologist Charlotte Delaney identified areas where she could help Bella communicate more clearly. She made sure Bella was comfortable and assessed her speech using fun games and activities that put Bella at ease.
Bella started going to speech therapy weekly. At each visit, Delaney wrote up a schedule so Bella knew what to expect, and then, they worked through a variety of activities, from games to reading books.
Delaney worked with Bella's strengths and interests. One day, Bella came into the office and belted out a song and accompanying dance to Katy Perry's song, "Firework." Bella loves music, and Delaney noticed that Bella could pronounce words when she sang that she struggled with when speaking. In response, Delaney incorporated music into their sessions.
Bella's mother, Michelle, said Bella's grandfather noticed improvements in her speech after just a month of therapy. "He could understand what she was saying, and he was amazed," she said. Michelle noticed that rather than getting upset and throwing a fit when she had trouble communicating, Bella would slow down and use her new skills. "Instead of rolling on the floor and screaming, she would sit down and try to do what she worked on with Charlotte," Michelle said.
Today, Bella is a strong-willed four year old. She loves to be the center of attention, and still loves music. Now, on Wednesday afternoons, she has playdates with friends, instead of going to speech therapy, but she still uses the skills she learned and cherishes the relationships she built. "She goes and visits [her speech therapist] Charlotte because she misses her," Michelle said.
Michelle said she would recommend other parents take their children to see a speech-language pathologist if they have concerns about their child's communication. She worries if Bella hadn't had support from a speech pathologist that she might have become more and more frustrated and withdrawn and wouldn't have blossomed into the self-assured child she is today.
"It's incredible how much of a difference it truly does make," Michelle said.
Parents should keep an eye out for the following symptoms, which could indicate that their child has a speech disorder: does not smile or interact with others starting at birth, does not babble from ages four to seven months, makes only a few sounds or gestures from seven to 12 months, does not understand what others say from seven months to two years, says only a few words from 12-18 months, does not say sentences from one and a half to two years, has trouble playing and talking with other children from two to three years and has trouble with early reading and writing skills from two and a half to three years.
These are some signs of hearing loss in children: lack of attention to sound from birth to one year, lack of response when someone calls their name from seven months to one year, delays in speech and language from birth to three years, pulling or scratching at ears, difficulty achieving academically, being socially isolated at school and persistent ear discomfort after exposure to loud noise.