Republicans anchor Montana's government at every level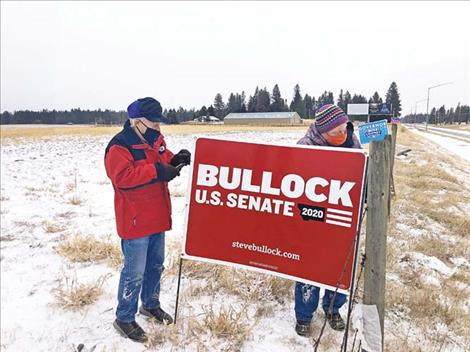 Last Tuesday's election changed the hue of Montana from purple to deep red, firmly anchoring Republicans at every level of state government, from the governor's mansion on down. In the federal arena too, Gov. Steve Bullock succumbed to Republican incumbent Steve Daines in the race for the U.S. Senate seat, and Matt Rosendale handily beat Democrat Kathleen Williams in the contest for Montana's lone House seat.
In addition to the all-red wave washing over the state, Democrats seemed especially surprised with the comfortable margins by which Republicans claimed victory up and down the ballot, in defiance of several polls predicting more even outcomes.
"We had so much hope going into this," says Craig McClure, chairman of the Lake County Democrats. "We had fantastic candidates all around. Demos came out in force, and the Republicans came out in force too."
He attributes the wide divide, in part, to the nation's overall divisiveness taking a toll on Montana's much-touted tendency to split the ballot and elect person over party.
"That just didn't happen this go around," says McClure. "In my gut, I kind of feel it's blowback from Trump and his efforts to polarize people and I think he's been successful in doing that in Montana."
House Majority Leader Greg Hertz, a Republican who served four terms in the Montana House before being elected to the Senate last week in an uncontested race, has a different take on the outcome. "It was kind of a perfect storm," he said.
"Number one, the Republican party had good strong candidates who had previously been elected to office, a strong ground game and a consistent message of protecting your rights, your liberties, your freedoms, smaller government and limiting your taxes," he adds.
He also believes the priorities of the national Democratic Party just don't resonate in rural states, which tend to have strong Republican majorities who support President Donald Trump and his policies.
Republicans were effective at tying local Democrats to their national counterparts, which ultimately undermined the tendency of independent voters to split their vote. "They just seemed to be more comfortable with Republicans' consistent message," said Hertz.
He also points to inaccurate polling, which predicted much closer outcomes. "Pollsters need to figure out why polling is way off," he said. "Democratic donors are especially not happy."
While McClure is chagrinned with the outcome, he feels strongly that local candidates ran their best races – especially Gerry Browning, who competed in House District 12 against Linda Reksten, and Lisa Pavlock, a candidate for HD 93 against incumbent Joe Read. Each lost by 14 percentage points to their Republican opponents.
"Really, everything was done that needed to be done and could be done," he said. "We dominated the letters to the editor, we dominated the signs out here in our communities and along our highway, and our candidates had plenty of money."
Both Browning and Pavlock received infusions from the Future Now Fund, a national Democratic organization that supports state legislative candidates with grassroots donations. Although the out-of-state donations were criticized by the candidates' opponents in advertising that appeared the week before the election, McClure points out that both women also had large and loyal local followings.
McClure also wonders if the pandemic played a role. "Obviously COVID threw a curveball in there in terms of door knocking and personal contact and the opportunity for candidates to get out there and meet people," he said. "We had a great slate of candidates, but we have to sell ourselves to voters. The virus made it harder to do that."
Hertz, who had expressed concerns about an all-mail vote prior to the election, feels that it ultimately benefitted Republicans with a record-setting 80 percent turnout.
"Montana is a majority Republican-right leaning state," he points out. "If you're going to give everyone in the state ballots, what do you expect the outcome to be?"
He also thinks the all-mail ballot could be part of Montana's future. "We can do some improvements on it, but we have very little fraud and a good system in place."
Looking toward the future, McClure says Democrats clearly have to rebuild their once powerful party. "It was a tough one obviously," he said of the election. "We've got some work to do, looks like."
Among those ongoing efforts, he points to the Blue Bench Project which encourages progressives to run for school board, city council and other community offices, in hopes they can begin to ascend the ladder and vie for seats in the Legislature and other statewide offices.
"The party has been putting effort and energy into trying to promote that," he said.
McClure adds that more engagement and networking with rural communities is a goal as well.
The decisive outcome of this election is certain to make it tougher to recruit candidates for future races. "I think Lisa and Gerry ran exemplary campaigns and they got slammed," said McClure. "It's going to take a very special person to step forward in the future. There are people out there like that, but it's going to be harder to find them I think. For me, just cold asking somebody to run is going to be a harder thing to muster up the guts to do."
For Hertz, the prospects are brighter, especially with a Republican governor and strong majorities for his party in both the House and Senate. After eight years of a Democratic administration, "working with a Republican governor offers challenges, but it also opens the door to proceed with Republican ideals and agenda that we haven't been able to do in the past."
He acknowledges, however, that one-party rule has its perils. "The risks are there that you get too extreme, go too far to the left or right, so you have to be careful," he said.
According to Hertz, Republicans and Democrats work together in the legislative branch more than people realize. "For the most part, we agree on 80 to 90 percent of issues," he said. "It's that 10 percent that comes out in the media and public. There are always struggles with social issues and budgetary issues."
The latter could be especially acute this biennium as the state faces a substantial drop in revenue due to the coronavirus pandemic. Hertz estimates the state's coffers could see a decline ranging from $200-$300 million.
As part of the bipartisan Legislative Council, he's been meeting with colleagues to plan the upcoming session, which starts Jan. 4. Among the issues they're discussing is how COVID might affect the next session. Hertz predicts a hybrid solution that allows legislators to meet both online and in-person.
"No one knows where we're going to be Jan. 1," he adds. "We're just planning for all possibilities. In order to be an effective legislator, you need to be in Helena to communicate with staff."
As to his own ambitions for serving in the Senate, Hertz says he's hoping to be assigned to those committees that best match his expertise, including taxation, labor and state administration.
"But as in the past, I'll do whatever I can do to help the state go wherever we need to go."