CSKT health official answers COVID-19 questions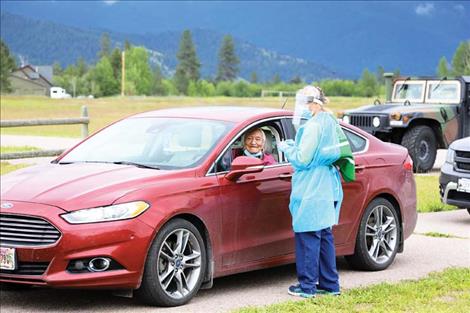 FLATHEAD RESERVATION — Chelsea Kleinmeyer, Community Health Division Director for Confederated Salish and Kootenai Tribal Health, responded to a few questions about the coronavirus pandemic.
VJ: What's the current tally of COVID-19 cases among tribal members? And what do those numbers tell you about how the statewide increase in coronavirus is affecting the reservation?
CK: Out of the 1,108 total confirmed cases in Lake County, 461 are tribal. Of the 244 active cases, 124 are tribal. This information is shared on the Lake County Health Department Facebook page.
Nationally, we know that COVID has had a disproportionate impact on people and communities of color. This includes American Indians and Alaska Native communities. The same is true in Montana.
VJ: How many CSKT tribal members have died so far from the virus?
CK: We have had two tribal members pass away from COVID-19. We also had a member of another tribe living here pass away from COVID-19.
VJ: How has the pandemic's spread stressed local healthcare resources?
CK: Many, if not all, of our healthcare facilities in Lake County have had healthcare personnel test positive for COVID-19 or have had several healthcare personnel quarantined. As we see more hospitalizations at our local facilities for COVID-19, we continue to see hospitalizations for emergencies and other acute injuries and illnesses. When staff are out because they are isolated and/or quarantined, this puts stress on the whole healthcare system.
Our partners to the north are experiencing a surge in cases causing tremendous stress in regard to personnel and other healthcare resources, such as bed and ventilator availability. When we have patients suffering from COVID-19 or other illness or injuries who are unable to be cared for at our local hospitals, we often send them to Kalispell for a higher level of care. This may not be possible if those facilities continue to experience the level of stress they are experiencing today.
VJ: What makes native populations more vulnerable?
CK: The Flathead Reservation is different than other reservations. On closed reservations, many times the only opportunity for healthcare is the local Indian Health Services facility. Here, tribal people have several access points to high-quality healthcare; however, we are noticing COVID-19 spreading through entire households, and sometimes, those households are very large and multi-generational.
When a person is positive for COVID-19, the best-case scenario is for them to completely isolate, confining themselves to one room of the house and no one else in the home uses the same bathroom. Often times, this is not possible and COVID-19 infects the entire household.
VJ: What's the major misconception that you encounter about COVID-19 — and how do you answer that?
CK: I have had several people tell me that masks do not work because they wear a mask all the time and still got COVID-19. The truth is that masks help to decrease the amount of virus circulating in the air. If a group of people are in close proximity to one another, and one or more of them have COVID-19, but all are wearing masks, there is less virus floating around. If the same group of people are not wearing masks there is apt to be more virus in the air to breathe in.
Data is suggesting that those with a lower viral load, or exposure to less virus particles from wearing a mask, are likely to have less severe cases of COVID-19. Of course, there are many other considerations that factor into this equation such as pre-existing medical conditions.
VJ: With Thanksgiving this week, and Christmas a month away, what are you telling families and friends about how to gather safely?
CK: It is important to only celebrate with those that live in the same household as you. Social distancing is more important now than ever as our cases continue to rise. Remember, a person is infectious two days before they develop symptoms. We encourage everyone to check in with their loved ones by using platforms such as Zoom or Facebook.
VJ: Are there any testing facilities devoted to tribal members, beyond what the local hospitals offer?
CK: Tribal Health is offering testing at the Salish Kootenai College Student Health Center. This is open for anyone eligible for Tribal Health, not just SKC students. We ask that you call and schedule an appointment before coming. We are also planning for increased testing capacity very soon.
VJ: Any websites you can suggest for additional info?
CK: The National Indian Health Board provides great information aimed at tribes and tribal people at https://www.nihb.org/covid-19/.