Local video produced to highlight availability of inclusive grants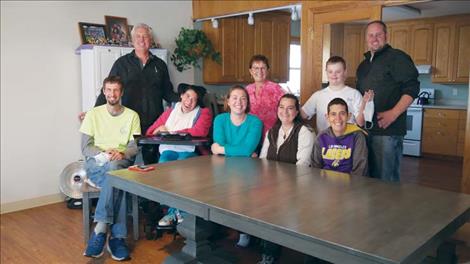 POLSON — Maclaen Burningham, of Polson, has volunteered his time to create an environment of inclusion in the state of Montana for several years, and he is asking for the community to get involved. His overall goal is "to help people with and without disabilities."
Maclaen saw the importance of bringing people together when he was in high school. He said in school, people with disabilities were often separated from students who did not have disabilities. Maclaen, who has Prader-Willi syndrome, felt the effects of exclusion.
"It was hard back then," he said. "I wanted to be in the same classes with everyone else. I wanted to feel like I belonged."
He said things have changed since he was a kid. He is now in his 30s. "There is more inclusion, now," he said. "It is better now, but we need to keep doing more."
Maclaen wants to make sure society in general continues to bring people with and without disabilities together, and he wants people to have more opportunities to have those experiences. In an effort to make his goal a reality, he joined the statewide Consumer Advisory Board for people with disabilities based out of the Rural Institute at the University of Montana in Missoula.
"Rural Institute is committed to creating better lives for rural people with disabilities and their families," the institute states. "With innovative services, training and research, RI strives to improve independence and participation of people with disabilities in everyday activities and all aspects of the community."
The institute wanted to include the voices of parents who have children with disabilities, so Maclaen's mother Valerie Burningham signed up for the advisory board. She explained that the Rural Institute for Inclusive Communities created the Community Investment Fund. The CIF receives funding to support grants.
"We get a little pot of money each year that we give out for innovative ideas based on inclusive projects," she said, adding that the projects can be anything from ice skating to a comedy show. The basic requirement to receive the grant is that the project brings people with and without disabilities together.
"The grant money is divided between several recipients or one project," she said. "It is available for inclusive, innovative projects or programs that will help people with disabilities live, learn, work and play in their communities alongside people without disabilities."
Valerie said the board has sent out a call each year for the past five years for anyone with an interesting idea, based on inclusion, to put in an application. "We need more people to apply," she said.
To get the word out about the grant opportunity, Maclaen helped make a video with several of his friends in a kitchen in Polson. The video is slated to go nationwide to give more people information about the project and can be found at https://youtu.be/SeqCYNsSciU.
The next grant review process will begin in the spring of 2021. More information can be found at http://ruralinstitute.umt.edu/community-investment-fund.
"We would love for more people to apply, and it would be really great to have local people apply for the grant, so start thinking about inclusive ideas," Valerie said.