Lake County property prices increase as people move in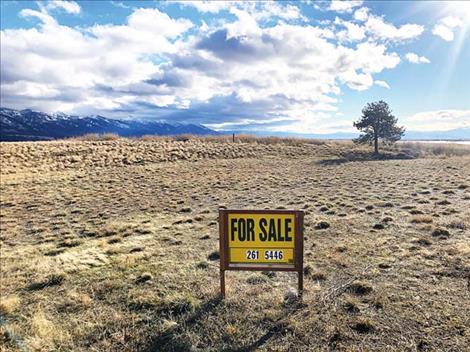 It should come as no surprise to Lake County residents that housing and property sales are booming in these parts. Just scan the for-sale signs or notice the out-of-state plates on vehicles that aren't just passing through.
According to Trudy Samuelson of Mission Valley Properties in St. Ignatius, the median price for a house in the area stretching from Arlee to Polson has risen from $213,000 in 2018 to $324,500 in October – that includes an increase of $22,500 just since January 2020.
"It's unreal," she says. "Just shocking."
She believes the boom is largely fueled by three factors: historically low interest rates, high demand and a low housing inventory.
For Mac Swan of Mission Bay Real Estate in Polson "during the frenzy (May-July) a busy day for me was 40 calls on my cell phone – you just couldn't pick it up fast enough."
When he finally took a few days off in September for a fishing trip, "I ended up selling a land parcel with a fly rod tucked under my armpit in the middle of the Bitterroot River."
In Polson, the median price for residential properties in the first 10 months of 2020 was $377,450, compared to the 2019 median of $240,525 – a 57 percent increase. Residential properties with lake access were averaging $463,650 compared to $368,933 in 2019; and waterfront residences were selling for a whopping average of $949,500, compared to $710,000 in 2019, while the number of waterfront sales had jumped from 17 a year ago to 44 by October.
Both see the arrival of the coronavirus pandemic as part of the picture. "It's certainly a motivation, a genesis," says Samuelson. "On top of that, so many of the places people live have had higher taxes, riots, lockdowns, crime, homelessness. People, it turns out, don't like living with that stuff."
Both perceive access to high-speed internet and jobs that are less linked to a physical office as an important part of the equation. "It's less about the pandemic itself and more about people realizing they are no longer tied to geography," says Swan. "They can be anywhere – if they've got a fast internet connection and a phone line they're good to go."
Samuelson saw a plethora of out-of-state buyers, mainly from the West Coast and Utah, and the Northeast, namely New Jersey, Pennsylvania and the Carolinas.
"People can live here and still do their work from their computer successfully," she says. "It's a way for people to have more freedom of choice where they live."
For many of the newcomers, local communities have enough basic amenities – good schools and healthcare, decent shopping – without the even higher price tags of Kalispell or Missoula.
Swan says most of his buyers came from other places as well, but many had Montana connections. The former Polson High School teacher has sold properties to former students who are nearing retirement age or able to work remotely, "so they're coming home."
For him, it was rare for someone to arrive without a Montana affiliation of some kind.
"I can only think of once where that's happened – where it was someone who had no clue about Montana," he says. "It's like they threw a dart and hit the map."
Samuelson, who spent decades selling real estate first in Missoula and then the Mission Valley, has also witnessed a remarkable uptick in the pace of sales. When she and her husband moved to St. Ignatius in 1993, real estate often sat on the market for a year or two. Now, she says, "we have properties on the market for five hours and there's an offer, or two days and there's an offer. That has just dramatically changed."
The pressure on the market shows up in disconcerting ways. Both realtors have sold properties to buyers who didn't actually view their purchases in person.
Samuelson says one of her coworkers has deployed Skype to give homebuyers a detailed look at a prospective residence.
"She walks people through the house, through the land, the view and the neighborhood, the well and septic, and they have purchased without being here. It's not actually boots on the ground, but they have seen the property and had a very thorough tour via video."
Swan notes that the market's breakneck pace means that some buyers make an offer without actually seeing the property, just to tie it up and give them time to fly in and look at it.
"The number of properties that have gone back on the market has skyrocketed, along with buyers making offers on property sight unseen," he says.
The low housing inventory has led some to look at buying bare land and building. Accordingly, the market for land is also on the upswing, with parcels of 1-10 acres especially popular.
"Land sales were flat for years – since the Great Recession of 2008," says Swan. But with the inventory of prebuilt homes waning, "now there's kind of a rush on land."
The volume of land sales in October alone, for example, was $3.5 million, up 586 percent over the same month in 2019.
All of this wreaks havoc on the market for local buyers trying to purchase or build a home. While historically low interest rates can be helpful for borrowers, those rates are also tied to the higher prices.
"Affordable housing is going to be the big challenge for people who are trying to raise families and get started," predicts Swan. "It's going to be really tough."
While property prices may seem astronomical to those who live here, houses and land are still a bargain compared to other places. "There's an outside pressure on the market by people who can liquidate out of state and bring that buying power to Montana," says Swan. "That presents a real challenge for people who are working in our local economy."
Samuelson also sees the strain on older homeowners, who may struggle to pay the higher taxes needed to finance the increased demand for services, including better schools and infrastructure. "Then those people are faced with 'we can't afford to live here anymore,'" she says. "That's a dilemma – that's something no one wants to see."
Is it a bubble? Swan thinks so. "We had a similar frenzy that occurred in 2006ish, where people would snap up anything in that boom," he recalls. "We found out that was unsustainable."
He also predicts that the current flight from the cities and suburbs will eventually subside as those who have the means or the job flexibility make their move. And then, there's the weather.
"Some people buying in Montana don't have a clue what it's like to go through winter after winter," he says. "So you give them a couple of hard winters and maybe we'll see an increase in the supply of properties as they leave."
Samuelson, however, believes as long as interest rates are low Montana will remain a popular choice for out-of-state buyers. "I don't see demand changing because the reasons people are relocating – those important life priorities like where they want to raise kids, the environment they want to live in – I don't see that changing quickly."
At the same time, the availability of housing continues to drop as homeowners who might have considered selling rethink their prospects. "A lot of people that were thinking of selling are now thinking, 'gosh, where are we going to go, where is a better place to live?'"
"We are short on listings," she adds. "But we do have a quality of life here that's really hard to match."