Polson Pirates wrap up season at state tourney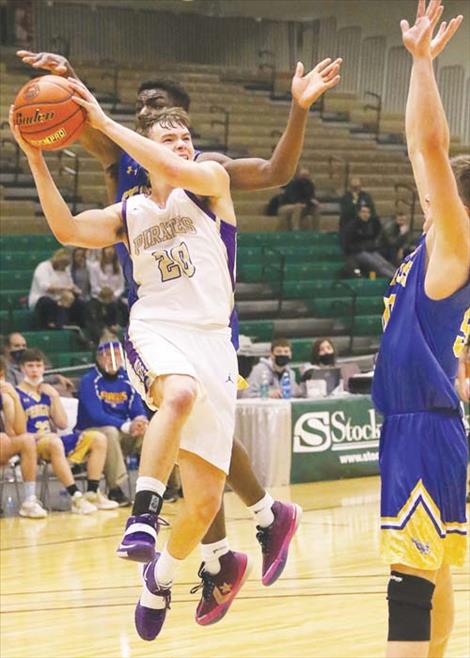 GREAT FALLS — The Polson Pirate boys basketball team wrapped up the 2020-21 season at the State A tournament hosted at the Four Seasons Arena in Great Falls.
The team opened the tournament with a first-round bye on Wednesday as the number two seed out of the Western A. The Pirates kicked things off Thursday evening with a 69-55 win over the Lewistown Golden Eagles.
Behind a game-high 23 points from Colton Graham, the Pirates erased a six-point first quarter and a three-point halftime deficit to earn a quarterfinal victory over the Golden Eagles.
Also for the Pirates, Braunson Henriksen finished with 14 points, while Jarrett Wilson's solid all-around game included a double-double, 17 points, 11 rebounds and a steal.
In Friday evening's semifinal matchup, the Pirates held a narrow two-point advantage over the Billings Central Rams as both teams headed into the locker room at the half.
Billings Central, the eventual State A champion, went on a scoring outburst of 20-7 in the third quarter, and the Pirates were outpaced in the second half for the 58-49 victory. Wilson's 20 points and Graham's 13 rebounds led both squads on the night. Also scoring in double figures, Pirate Xavier Fisher had 13 points.
Playing in the loser-out bracket Saturday morning, the Pirates faced, for the third time this season, the Ronan Chiefs. In the back-and-forth low-scoring-game, the Chiefs led by eight points, 22-14, at halftime.
The third quarter saw the Pirates outscore the Chiefs 12-8, cutting the Chief's advantage by half. The Chiefs held off a surging Pirate offense for the narrow one-point 38-37 victory.
Polson was paced by Graham, who had a double-double with 10 points and 10 rebounds.
The Pirates finish the season as the Northwestern A Conference champions, Western A Divisional runner-up and an overall season record of 16-4.
2021 Class A Basketball Tournament
Four Seasons Arena – Great Falls
Lewistown Golden Eagles 55
Polson Pirates 69
Lewistown 21 15 6 13 – 55
Polson 15 18 16 20 – 69
POLSON – Xavier Fisher 6; Jarrett Wilson 17; Darian Williams 9; Colton Graham 23; Braunson Henriksen 14.
Billings Central Rams 58
Polson Pirates 49
Billings Central 14 14 7 14 – 49
Polson 12 14 20 12 – 58
POLSON - JC Steele 4; Xavier Fisher 13; Jarrett Wilson 20; Darian Williams 5; Colton Graham 3; Braunson Henriksen 4.
Ronan Chiefs 38
Polson Pirates 37
Ronan 9 13 8 8 – 38
Polson 8 6 12 11 – 37
POLSON – Xavier Fisher 4, Jarrett Wilson 7, Darian Williams 7, Colton Graham 10, Braunson Henricksen 6, Alex Muzquiz 1, Trevor Lake 2.