COVID-19 vaccine available for all in Lake County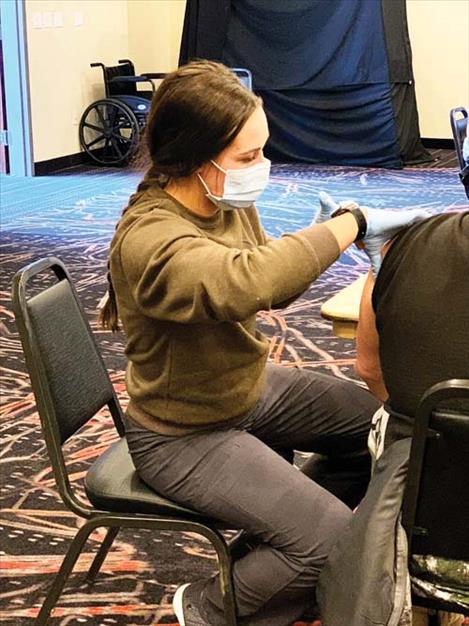 As of Thursday, April 1, every Montanan age 16 and older is eligible to receive a COVID-19 vaccine. Whether they can secure appointments remains to be seen.
According to Emily Colomeda, director of Lake County Public Health, "Lake County currently has ample supply among all of the vaccination sites to provide vaccine to those who want one. The limitations may be the capacity of each site to provide enough appointments to accommodate the demand."
According to the Montana COVID Response website, as of March 28, 16,336 doses had been administered in Lake County and 6,557 people were fully immunized out of an eligible population of nearly 24,200. Lake County has 675 doses available per 1,000 people, compared to 504 in Missoula County and 353 in Flathead County.
Colomeda says the vaccine is now more widely available thanks to pharmacies in most communities offering appointments, as well as CSKT Tribal Health, St. Joseph Medical Center, St. Luke Community Healthcare and the health department.
"I would suggest that a person seeking vaccine should visit those websites for appointment availability," she added. The Lake County Health Task Force is also planning a couple of mass vaccination clinics at Salish Kootenai College, but dates haven't been announced yet.
Chelsea Kleinmeyer, director of the Community Health Division for CSKT Tribal Health, says the Tribes' vaccination program is now open to everyone residing in Lake County or on the reservation. Tribal Health receives 1,170 doses of the Pfizer vaccine every two weeks (the only one approved for 16 and 17 year olds). An additional 100 doses of Johnson & Johnson's single-shot Janssen vaccine arrives every few weeks and is reserved for incarcerated individuals.
Schools in Lake County appear to be on track to finish the year with masking requirements, social distancing and hygiene guidelines still in place.
Ronan School District insists that students and staff use masks while in classrooms and continue with hand washing, social distancing, and other safety measures. The district began the school year with in-person learning four days a week and Fridays devoted to remote-learning students. The district now offers five days of "synchronous learning" at the high school and middle school, which allows remote students to virtually attend classes.
The number of students learning remotely has steadily declined from 350 at the beginning of the year to 115 currently.
"This shows our parents and guardians are feeling more comfortable with the practices we have in place to make our schools as safe as possible," says superintendent Mark Johnston.
He hopes the district will resume all in-person instruction next year. "I feel strongly that the best way to educate our students is through face-to-face interaction."
According to Johnston, the number of positive cases in the district has dropped to 30 since Jan. 1, out of 250 employees and 1,500 students. He's unsure how many staff and high school students will choose to get vaccinated now that eligibility is open to all. He circulated a survey six weeks ago among staff and of the respondents, 40 percent said yes, 50 percent said no, and 10 percent were undecided or waiting to see how others were affected by the vaccine.
"I think more have decided to get the vaccine and would guess we are probably at about 60 percent," he said.
"It is a personal choice that everyone should be able to decide if they want to get the vaccine," he added. "Personally, my wife and I chose to get vaccinated, but that was our own choice."
In Polson, acting superintendent Tom DiGiallonardo said that 130 staff members out of 245 district employees responded to a recent COVID-19 survey. Of those, 80 percent were in the process of receiving one or both of their doses of vaccine. A few were waiting for the single-dose option from Johnson & Johnson, and others remained undecided.
He doesn't anticipate changing masking policy or altering the schedule between now and the end of our school year. "We feel what we've been doing has been working," he said. "Specifically, we are keeping our students and staff safe and in our schools."
As of March 26, Lake County posted 26 active cases, one current hospitalization and 28 deaths. The latest death from COVID complications was announced March 17, and was a man in his 70s.
Statewide, the Department of Public Health and Human Services reported that the death rate among Montana residents increased by 14 percent in 2020 compared with the previous five-year average.
State health officials point to the COVID-19 pandemic as the main reason for the increase, and say the virus was the third leading cause of death in Montana last year, trailing heart disease and cancer.
"The COVID-19 pandemic has had a profound impact on the health and daily lives of Montanans," said DPHHS Director Adam Meier. "Our hearts go out to all those who have lost a loved one over the past year."
DPHHS also noted that at least three variants of the virus have been detected in Montana, including several cases of the variant that first appeared in the United Kingdom.
The appearance of new virus strains in the state reinforces the importance of continuing to mask up in public places, even after receiving the vaccine.
"The concern is that vaccinated individuals can still become infected with the virus, without symptoms, and spread it to those not yet vaccinated," said Kleinmeyer. "If vaccinated people do not continue to wear a mask until more people are fully vaccinated, it could allow the virus to continue to circulate and mutate."