Polson FC U18 girls claim state title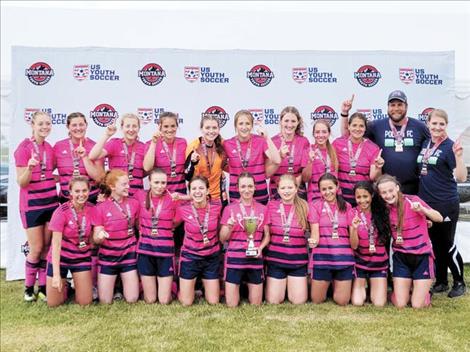 he Polson FC U18 girls' soccer team claimed their second state championship in the last four years by defeating Laurel 6-1 in the Montana Youth Soccer Association State Cup Tournament held in Great Falls on June 18-20.
Polson opened the tournament on the first day with a 6-0 shutout win over Livingston followed by day two wins of 3-2 over Laurel and 2-0 over Stevensville. On day three, Polson faced Laurel for the second time in the tournament. The first half ended with the Polson girls up by a slim margin of 2-1. In the second half, Polson scored four unanswered goals for the 6-1 championship victory.
"Everything about this entire weekend was about the team working together and the players working hard to make the team better," said head coach Jess Kittle. "Everyone did their job to the best of their abilities. I am so proud of everyone."
Over the course of the championship weekend, the Polson team went 4-0. On the season, Polson finished their league schedule 7-0-1 while wrapping up an overall season record of 14-6-1. Autumn Burland paced the Polson squad with 22 goals and 11 assists on the season followed by Kyla Heiser with 17 goals and Tia Mercer with nine goals.