COVID cases rise, new bills restrict response measures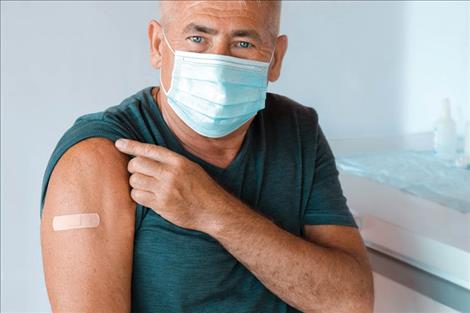 Two bills passed by the 2021 Legislature and signed into law by Gov. Greg Gianforte make it even more challenging for public health officials to address the current upswing in COVID cases, accelerated by the highly contagious Delta variant.
House Bill 257 limits the ability of health boards or school districts to isolate or quarantine those exposed to the virus. And House Bill 702 stipulates that governments, businesses and healthcare institutions "can no longer discriminate based on vaccine status." The only exception is long-term care and assisted-living facilities.
Lake County Public Health Director Emily Colomeda says she "absolutely" anticipates that these two pieces of legislation will amplify the spread of the virus instead of slow it.
"When I talked with the county attorney he agreed we can no longer order someone, vaccinated or not, to quarantine on the basis of exposure," she added.
This guidance directly counters the Centers for Disease Control guidelines for people exposed to the virus. Under those directives, vaccinated people who come into close contact with someone with suspected or confirmed COVID-19 should be tested 3-5 days after exposure, and wear a mask in public indoor settings for 14 days or until they receive a negative test result.
Those who are unvaccinated should quarantine for 10 days if they've been in close contact (within six feet of someone for a cumulative total of 15 minutes over a 24-hour period) with someone who has COVID-19. If a test taken in 5-7 days turns up negative, they can shorten the duration of their quarantine.
Colomeda points out that quarantine is a standard tool in the public health arsenal, designed to inhibit the spread of infectious disease. "We do it for tuberculosis; we do it for pertussis (whooping cough)," says Colomeda. "The difference is there's not a verified treatment for COVID … and Delta is a game changer. It's definitely more contagious."
Under House Bill 257, health departments can recommend quarantine, but no longer order it for those exposed to COVID. And they can't alter those recommendations based on vaccine status.
However, if someone does test positive, the county still has the authority to order them to isolate (as can local school districts).
The legislation, signed into law last spring when the virus appeared to be waning and vaccines were becoming widely available, muddies an already confusing and extremely fluid healthcare crisis.
Just look at the numbers, posted last week on the Lake County Public Health Facebook page: a year ago, on Aug. 27, 2020, the county had 204 confirmed cases, 12 were active (one new), with 17 hospitalizations and one death. By last Friday Aug. 27, the county had 2,580 confirmed cases (up 16 from the day before), 129 active (40 of those among people who are fully vaccinated); and posted a total of 170 hospitalizations since the pandemic began (seven currently hospitalized, with two of those vaccinated). The virus is responsible for 43 deaths.
Local hospitals are seeing more COVID-related cases and have set their COVID units back up again. Colomeda says it's reminiscent of last fall's peak – but with fewer tools available to address it.
"Honestly, this has been a struggle for us from a disease control point of view," says Colomeda. "Contact tracers and case investigators are really struggling. When people push back, there's not a lot we can do about that – and that doesn't feel very good from our standpoint."
The department has two employees who spend their days tracing contacts of people who have tested positive for COVID 19, with a third coming on board Monday. "That's all those folks are doing right now and they're overwhelmed."
Changing the quarantine order to a recommendation allows people "to ignore it without any real consequences other than potentially getting someone sick or hospitalized. And it allows people who have been in close contact to go back to work or to school without quarantining."
Colomeda notes that the legislation also affects school districts, which are bringing students through the doors this week and next. "It presents an all or none option: vaccinated and unvaccinated students can't be treated differently," she said.
Mike Cutler, superintendent of schools in Polson, agrees. The new legislation "puts us in a no-win situation" by limiting schools' ability to quarantine students and staff who were exposed to the virus, he says. Using available tools – heightened sanitation, social distancing, hand-washing, and masking if needed – "we're going to try to do the best job we can to educate our kids."
According to the CDC, the Delta variant, which is now the predominate strain in Montana, "has created a new and pressing risk to children and adolescents across this country." In Lake County, 412 kids between the ages of 0-19 have tested positive since the pandemic started 18 months ago.
On a positive note, students 12-18 appear to slowly be getting vaccinated. A few months ago, 12 percent had received the Pfizer vaccine (the only one authorized for ages 12 and older). "Now, I believe it's up to around 20 percent – that's promising to me," said Colomeda.
Also encouraging is the increase in county vaccination rate from 52 percent a few weeks ago to 55 percent last week.
According to a study published by the CDC last Tuesday, vaccine effectiveness against COVID-19 infection has dropped from about 91 percent to 66 percent due to the Delta strain. That news comes as the government announced plans to make booster shots available this fall.
"Vaccines work. They are safe. It's one layer of protection that can potentially save a life, save a hospitalization, or save someone else's," says Colomeda. "What we want to emphasize is if you don't want to do it for yourself, do it for the good of the community."
She'd also like to see masks reappear. "I don't care how many people don't believe masks work. Not wearing masks is contributing to the issue," she says, especially when there's no opportunity to social distance. Finally, "if you're sick stay home. And if you think it's COVID, get tested."
Although the health department has ended its Friday vaccine clinics, shots of the Moderna vaccine are still available Wednesdays and may be scheduled at www.mtreadyclinic.org. Area pharmacies, healthcare providers and the Tribal Health Department also have vaccines available and health care providers and some pharmacies provide COVID tests.
"I'm convinced if we don't get a hold on it, Delta will not be the last variant that's going to affect the population," Colomeda says.
Efforts to contain the virus "shouldn't be divisive," she added. "We should want to protect each other – the whole medical community cannot be wrong."