Martinez sentenced for failure to register as violent offender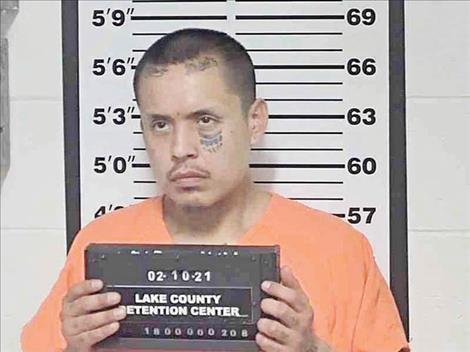 POLSON — A Great Falls man, with a lengthy criminal record, was committed at District Court in Polson on Sept. 22 by Judge James Manley to five years with the Montana Department of Corrections with none of that time suspended for failing to register as a violent offender.
Dominic Antonio Martinez, 29, was under court order to register as a violent offender stemming from a 2018 conviction.
Martinez pled guilty to the charge without the benefit of a negotiated plea agreement, but the state did agree to dismiss felony charges of burglary and robbery due to a "lack of cooperation" by the alleged victim according to prosecutor Ben Anciaux with the Lake County Attorney's office.
As for the burglary and robbery charges, according to court records, on Dec. 17, 2020, a woman called 911 to report that three people had broken into her boyfriend's home where she was staying, assaulted her and stolen items from her. A Lake County Sheriff's deputy documented damage to the front entry door. The alleged victim told the deputy that Martinez, along with another man and woman she did not recognize, broke in the front door. She went on to state that Martinez came into her room, placed her in a choke hold and asked where the valuables were while the unidentified woman punched her in the face. The deputy observed injuries to the alleged victim's face and mouth that were consistent with her story.
Martinez was released from the Montana State Prison about a month before the alleged burglary. A warrant was issued for his arrest when he failed to report to his probation officer about seven days after his release from prison. He was arrested on that warrant on Feb. 10, still not having registered as a violent offender. Martinez, who was born in Polson, has eight prior felony convictions and 44 prior misdemeanor convictions according to Anciaux.