MMFEC receives $100,000 grant for Food Box Program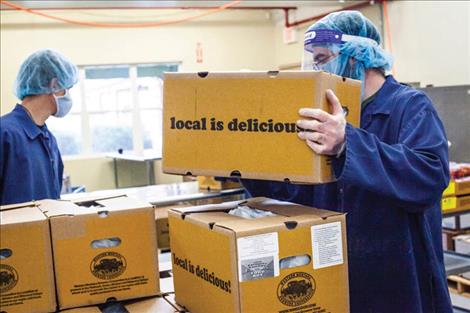 News from Mission West Community Development Partners
RONAN – The Mission Mountain Food Enterprise Center (MMFEC) has received a $100,000 grant from the Montana Healthcare Foundation to support its Food Box Program. The Local Food for Local Families: Montana SNAP Food Box Pilot Project provides fresh, high-quality food items from Montana producers and processors to families with low incomes in Western Montana. Through this pilot, boxes of local foods sourced from the Western Montana Growers Cooperative are made available weekly for purchase with SNAP or cash at Camas Organic Market in Hot Springs, Arlee Community Development Corporation in Arlee, and Farm Hands Nourish the Flathead in Columbia Falls. If purchasing with SNAP, families receive an instant Double SNAP Dollar match through a partnership with the Community Food and Agriculture Coalition.
"We began distributing food boxes in July 2020, and we are building on the positive feedback from those boxes to create this additional opportunity for families to purchase fresh, healthy, local foods at affordable prices while supporting local producers," said Anne Harney, Local Food Promotion Coordinator for MMFEC. "We are thankful for the support of our pilot partners and the Montana Healthcare Foundation to help provide more local food to local families."
About Mission Mountain Food Enterprise Center
The Mission Mountain Food Enterprise Center is a 13,000 square foot FDA registered, USDA meat inspected, certified organic shared-use food processing and manufacturing facility in downtown Ronan. MMFEC is a division of Mission West Community Development Partners.
About the Montana Healthcare Foundation
MHCF makes strategic investments to improve the health and well-being of all Montanans.
Created in 2013, MHCF has approximately $170 million in assets making it Montana's largest health-focused, private foundation. MHCF contributes to a measurably healthier state by supporting access to quality and affordable health services, conducting evidence-driven research and analysis, and addressing the upstream influences on health and illness. To learn more about the Foundation and its focus areas, please visit mthcf.org.