Mission Valley candidates vie for city offices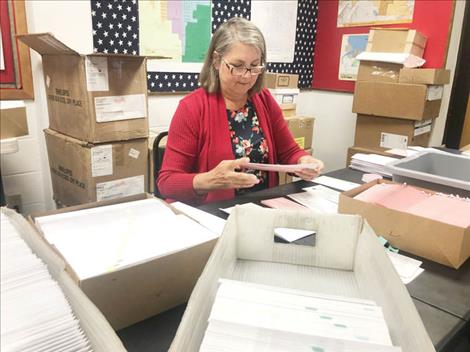 The normally quiet Lake County Elections Office was abuzz last week, with extra staff on hand to stuff around 20,000 ballots into envelopes for upcoming municipal elections. Some were shipped last Friday to meet the deadline for mailing ballots to military and overseas voters, and the majority goes out this Friday, Oct. 15, for the Nov. 2 election.
Voters will find several contested races on their ballots:
In St. Ignatius, Mayor Steve McCollum faces Daren Incashola. The two incumbent councilmen, Daniel Thompson and Chris Heffern, are unopposed, and there is no candidate for city judge.
In Ronan, Mayor Kim Aipperspach faces challenges from Robert (Bob) Sager and city councilman Chris Adler while Ward 1 incumbent Marilynn Tanner is opposed by Ryan Corum. Ward 2, currently represented by Adler, has no candidate on the ballot; and Ward 3's Marlene Melton has no opponent. Allysen Jones and Zachariah Miller face off for city judge.
In Polson, Eric Huffine and Rachel Wanderscheid are vying to replace Mayor Paul Briney. Two city commission seats are also contested: Jen Ruggless and Jake Holley. Each seeks to represent Ward 1 (the seat currently held by Lou Marchello); and Ward 2 is a contest between David Coffman and Laura Dever (who was appointed by the commission in July to complete a term following the resignation of Patricia Corrigan-Ekness). Brodie Moll is unopposed in Ward 3.
Those who wish to register may download a voter registration form online at app.mt.gov/voterinfo/, or request a form by mail or in-person from the Lake County Election Office, 106 4th Ave. E., Polson, MT 59860. Late registration is open until noon Nov. 1.
Voters who have moved must update their information by filling out a new registration card and submitting it to the county election office, open 8 a.m.-5 p.m. Monday-Friday.
Ballots must be turned in by 8 p.m. Tuesday, Nov. 2.
For more information, call 406-883-7268.