Ronan recount doesn't break tie vote, city council to make selection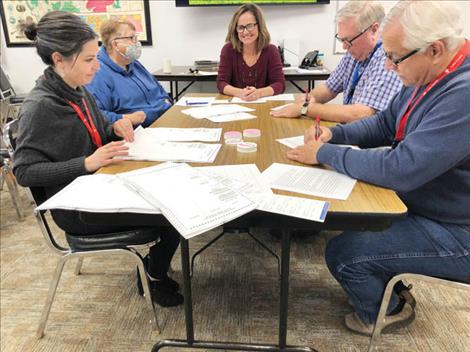 Although last Monday's hand recount of ballots at the Lake County Courthouse failed to break a tie in the race to represent Ward 1 in Ronan, it did yield a couple of civic lessons.
First, voting matters. Incumbent Marilynn Tanner and opponent Ryan Corum each mustered 68 votes. The one ballot that might have decided the matter was an "under vote," meaning whoever cast the ballot only voted for mayor and neglected to fill in an oval for council representative.
All voters received mail ballots for the three municipal elections and one county election held Nov. 2; ballots were mailed back or submitted in person and tabulated by machine. The recount helped affirm the accuracy of the voting system, since Monday's recount matched the machine tabulation.
State law dictated a recount after provisional ballots were counted, and failed to break the tie.
On Monday, three election judges assembled to carefully separate and count the ballots by hand. Judges were county commissioners Steve Stanley and Bill Barron and former election administrator Katie Harding, who now serves as clerk and recorder. Tanner was also on hand to watch the proceedings.
"I never imagined having a tie," election administrator Toni Kramer told the judges as she outlined the recount procedure. Both she and Barron mentioned that Bozeman had also faced a tie in 2018, when the two candidates for clerk and recorder each tallied 4,965 votes. At least in Ronan's case, the judges only had 136 votes to count, a chore they dispatched in about 15 minutes.
Judges opened the sealed box of votes from the City of Ronan election, sorted out Ward 1 ballots, separated them into piles for each candidate, and as Harding read out names, the other two tallied.
The count again ended in 68 votes apiece, with one "under vote."
"There's one person out there in Ronan who has a lot of power and doesn't realize it," said Tanner.
Harding noted that during her tenure as election administrator she'd never presided over a tie vote. "It's not very common," she said.
Hand counts, on the other hand, are required after every federal election. Two or three precincts are randomly selected and hand-counted to make sure the numbers match those tabulated by machines. "So far, there's never been an issue," she said.
Since the recount ended in a tie, the Ronan City Council will select a winner. The matter was scheduled for vote at the Nov. 22 meeting. Results were not available by press time.