Ronan schools provide Thanksgiving baskets to families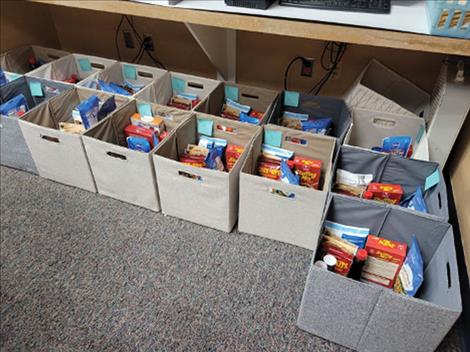 Ronan School District photo
RONAN — The Ronan Counseling Department handed out 567 pounds of food to families in need this Thanksgiving.
Turkeys were offered to the district by the Montana Food Bank Network back in October, setting in motion the organization of the Thanksgiving baskets. To determine how many were needed, the counseling staff gathered and got in touch with families they felt would benefit from some extra support.
Sixteen households in total were given baskets for the holiday.
The rest of the food provided was already largely available from the school district's own high school pantry.
Made possible by the No Kid Hungry grant received by the school district last year to start a food pantry, the Ronan High School Pantry offers a wide variety of meal-making choices to students, from canned and dry goods to refrigerated and frozen.
"We want the kids to come in and get the food that their family will eat," Tammy Young, the school counselor involved in applying for the grant, said. "That's the overall goal of the pantry, just to help out families that need some extra support."
Involved in bringing the backpack program to the elementary and middle schoolers of Ronan, a program that sends students who need a little extra support home with food on the weekends, Young saw a need for food security among older students as well.
"Making sure these kids have food is something close to my heart. When kids are hungry, they can't focus. They can't learn," Young said.
The high school pantry was opened within the counseling center of the school in 2020, and all food offered comes from the Montana Food Bank Network based out of Missoula. The school district's biggest goal now is getting the word out for kids in need that it is available and encourage its utilization.
"We're not going to require proof of income. It's all confidential," Young stated. "We're trying to get the word out to our families in the community and just let people know that it is available. Our goal is just to make sure people have food."