Northwest Food Hub Network receives $1M USDA grant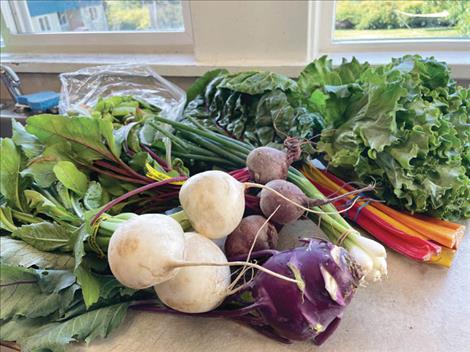 RONAN — The Northwest Food Hub Network has been awarded a $1 million grant as part of the Regional Food Systems Partnership grant program, the USDA announced.
Part of a collective of farmer-owned cooperative food hubs spanning across Montana and Washington, the Northwest Food Hub Network aims to encourage the supply and use of locally grown food in large institutions.
The allocated funds will be put toward a three-year project intended to improve the local food hubs and increase the network for family farms, coming at a crucial time after two challenging seasons due to COVID-19. The network intends to accomplish this by focusing on a few key areas.
"[First] we'll be hiring a full-time person dedicated to working with the Food Hub Network; growing it, coordinating it, [providing] that dedicated person. That'll be great on our end because right now we're just doing it between all our other work," Kaylee Thornley, coordinator of the NW Food Hub Network and Cooperative Development Director of Mission West Community Development Partners, told us. The job listing for 'Regional Food Systems Program Manager' has already been listed on Indeed and the Mission West CDP website.
"Another area is expanding the institutional market area access… like hospitals, universities, and K-12 schools, and trying to get more local food into those huge markets," she said.
At present, most institutions order foodservice by way of a broadline distributor, which send food from distant, occasionally international, locations. This results in millions of dollars spent to receive food from far away that may not be necessary if some of the items are available locally.
"There will also be some software that will be developed to allow the food hubs to aggregate their inventory and manage their logistics together - getting food from point A to point B, making sure we can send out catalogues so that institutions and foodservice buyers can see what's available," Thornley said, speaking of the network's partnerships with Farm Fare and Local Food Marketplace (LFM).
The funded software development is intended to allow integration to be built with programs already in use by the hubs to manage the local inventory in their system. This will let institutions prioritize the most local food available to them. Farm Fare and the LFM hope to have a beta version of this software available by next growing season, approximately May 2022.
"Finally, [the funds] will also support staff time at each of the hubs to talk with foodservices buyers at different institutions, to work with their farmers to meet food health safety objectives in stricter markets," stated Thornley.
The Food Hub Network has also begun working with Kitchen Sync Strategies, a company that specializes in brokerage with institutional markets. They will be advising the hubs on how to get more local food into the market channel.
Regarding the overall impact of the grant, Thornley said "It's amazing to see the USDA putting this kind of investment into our regional food system, and it's really going to be a huge benefit to our local farms, and helping on the institutional end to access more healthy food that's good for patients, school students… (and) It keeps the money in our local economy."
The project officially launched on Nov. 1 and is anticipated to be fully realized by mid-2023.