Marijuana ordinance passes first reading in Polson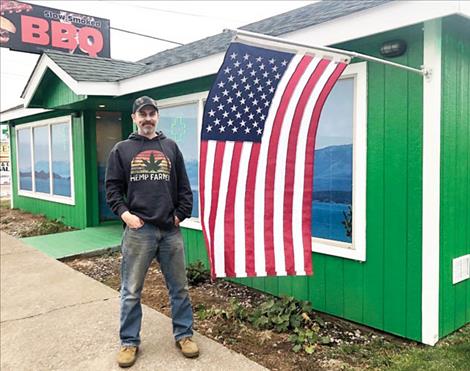 LAKE COUNTY — Although sales of recreational marijuana become legal in Montana Jan. 1, locals won't see a deluge of dispensaries selling pot. Instead, suggests Polson City Manager Ed Meece, "we'll probably see the licenses issued in a constant trickle rather than a flood over 2022."
That's for two reasons. First, although recreational marijuana is legal as of Jan. 1, only existing, licensed medical marijuana providers are allowed to apply for licenses in the first 18 months, through June 2023.
Secondly, Meece suspects the application process will take time even for existing medical providers, since House Bill 701 lays out separate requirements and timelines for licensure of recreational vendors.
In Lake County, local governments are wrestling with how to move forward. Polson is ahead of the pack, with the first reading of a regulatory ordinance approved last Monday by the city commission, and a second reading slated for next Monday. A second ordinance addressing zoning will also be introduced to the commission at its next meeting on Dec. 20.
The Ronan City Council took up the issue at a special meeting at 7 p.m. Monday, Dec. 13.
"We're still in the planning stages," said Mayor Kim Aipperspach, who anticipates that Ronan's ordinance will be similar to Polson's. He added that so far "a couple of people" have expressed interest in opening
dispensaries.
"It's just something we have to adapt and live with," he says.
According to St. Ignatius Mayor Steve McCollum, "so far there's been zero interest in putting one here." The city plans to charge the same amount for a recreational marijuana license as it does for an alcohol license – $250 a year.
As far as additional rules, "we've talked about it, but we haven't really set anything in stone," McCollum said.
Like other incorporated towns, the council is working with county government on a 3% excise tax proposal, slated to go on the ballot in June. Voters will have the option of taxing sales of medical, recreational, both or neither.
If approved, 50% of revenues would go into county coffers, 5% would go to the Department of Revenue, and the remainder would be divvied up between the three municipalities of Polson, Ronan and St. Ignatius based on population. That tax would take effect next September.
The state law, passed by the Legislature last spring, already stipulates that dispensaries must be at least 500 feet from a building used exclusively as a place of worship or from a school, unless local jurisdictions decide differently.
In Polson's case, the proposed new city ordinance would prohibit dispensaries within 300 linear feet of residential zones, 500 feet from a place of worship, building, facility, or park owned or operated by the city, and 1,000 feet from public and private schools. Those distances are measured from the property line of the protected business or facility to the public entrance of the marijuana business.
During the first reading last week, the commission also asked that state-registered daycares be included in the 1,000-foot parameter.
Commissioner Carolyn Pardini brought up the idea of adding daycares to the list. "I don't know how I'd feel dropping my child off at a really nice daycare and there's a recreational marijuana place down the street," she said at last Monday's meeting.
While supportive of adding daycares to the school exclusion area, commission members noted that most daycares are located in residential areas that will have a 300-foot buffer zone.
Pardini also wondered if parks should be included in the 1,000-foot exclusion area instead of 500 feet.
By imposing more and more limitations, commissioner Brodie Moll asked, "Are we going to get to the point where we absolutely exclude somebody from having a business?"
"We do have to provide some opportunity for them to exist," Meece said.
Pardini suggested making a map available in local newspapers and at city hall to show what the exclusion areas look like. "This is a pretty big change for our community," she said. "We want to encourage independent businesses, but these are tough decisions for me."
Mayor Paul Briney asked for a rough estimate of how much revenue the 3% countywide tax on recreational marijuana might generate, if approved.
"We just don't have enough information to be able to estimate that number," replied Meece. "I think it's in the two digits rather than three, at least to begin with."
Pardini said she noticed during recent visits to Washington that marijuana dispensaries appear to be thriving in Spokane. "If new businesses there are any indication I think over time this will be a significant, dependable revenue stream for the county and for the city," she said. "As we look forward I think we should not be counting our eggs yet, but tending the hen house."
Also in the proposed ordinance is a $1,500 annual business fee (in addition to the $5,000 state fee), and stipulations that in many cases mimic the state law, such as limiting business hours to 9 a.m. to 8 p.m., prohibiting vending machines and drive-through windows, and insisting that all products be transported in opaque, child-resistant containers. Advertisements of activities, products or services related to medical or recreational marijuana would be prohibited.
After adding daycares to the school exclusion zone, the first reading passed unanimously. There will be a second reading Dec. 20 and if approved would go into effect a month later.
The second measure, to be introduced Dec. 20, adds two new commercial zones, Adult Use Dispensary and Marijuana Manufacturer, to the existing code. The new uses will require a special use permit approved by the City-County Planning Board and the city commission as part of the approval process.
In an interview Friday, Meece noted that Polson currently only has two medical marijuana dispensaries that may opt to pursue recreational licenses in the coming year. He added that cities with a higher number of medical dispensaries – such as Missoula with 55 – are moving more quickly to enact ordinances governing recreational marijuana.
"For Polson, the low number of current medical providers makes the waiting period (from Jan. 1, 2022 to June 30, 2023) a little less scary," he said.