CSKT division offers Q&A on projects tied to Water Compact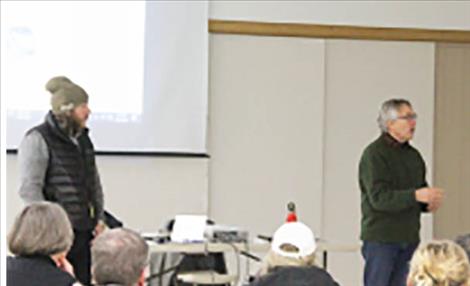 RONAN — The Confederated Salish Kootenai Tribes Division of Engineering and Water Resources held an event last week to answer questions about ongoing projects tied to the CSKT Water Compact.
The four-hour event was meant to be informal, allowing attendees to come as their schedule allowed to ask about elements of the Compact in the way it pertained to the Flathead Indian Irrigation Project (FIIP). Most who attended arrived within the first hour and asked for a simple overview. Seth Makepeace and Jace Smith presented.
Adaptive management, the process to preserve flexibility to continuously manage and improve the allocation of water between instream flows and reservoir levels, was explained to be fundamental to the Compact. It reflects the dynamic nature of the water supply, allowing recommendations within the year to changes to instream flow (ISF) or FIIP Water Use Rights (RDAs) or move schedules forward or back based on changing conditions, allowing for project improvements.
Operational improvements, actions to improve the correspondence between headworks diversion and crop demand, were explained to improve net irrigation project efficiency. Water measurements, supply management tools such as forecasting, and stock water mitigation will impact ISF flow schedules and RDA diversion schedules in effect.
The rehabilitation and betterment of irrigation facilities to improve water management and operational control were also highlighted. Some specifics of work being investigated in the Jocko River were explained, such as obtaining cost metrics for the constructability of different piping materials that experience minimal corrosion, as well as a test drive of radial gates being run in North Fork Jocko due to the rain bursts there.
As far as timelines for projects in Jocko, and upcoming plans for Charlo, definitive answers could not be given. In addition to construction challenges such as material shortages and extended delivery times, the division is currently understaffed, in need of hydrologists able to work onsite. Makepeace explained that, unlike engineers, they are not comfortable contracting out to hydrologists because the projects need more hands-on management from people familiar with the specific sites.
"Humans make mistakes," Smith added. "We're doing our best to weed those out as much as possible."
Another goal of the Compact is to assure the FIIP instream flow and RDA allocation can be functionally and objectively administered. The division is looking to support an online dashboard to allow irrigators to remotely control waterflow. The division currently lacks the staff to complete this endeavor, but is determined to roll it out at some point in the future.
"This just doesn't happen overnight by any means," Makepeace said.
Formation of the Unitary Management Ordinance (UMO) board was also discussed. A unique feature in the United States, the board was formed due to the checkerboard nature of the reservation water rights. The board will have four main functions:
First, the board will be tasked with allocating new appropriations, both for water rights that do not need mitigation to offset different water rights such as private wells, and for appropriations required to mitigate adverse effects to existing water rights.
Second, they will handle water rights changes of use, such as surface versus groundwater allocations.
Third, the board will hold endorsement responsibility for appeals.
Finally, the UMO will be used when interpretation in water rights laws and disputes is needed.
The UMO board will also be able to mediate disputes between private irrigated properties that are within the project. First, however, they will need to establish a permanent location and begin hiring staff.
Finally, Makepeace emphasized the approaching Unitary Administration and Management Ordinance March 16 deadline for landowners to register certain types of previously unrecorded water uses with the board. The division has issued several reminders since the Compact was passed, but some are still unaware of the ticking clock.
For assistance in land registration or for more information, visit the DNRC's CSKT Water Compact website at http://dnrc.mt.gov/divisions/water/water-compact-implementation-program/confederated-salish-and-kootenai-tribes-compact.