Whitworth sentenced for vehicular homicide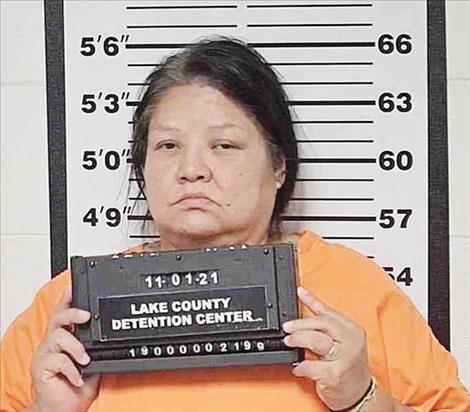 POLSON — A Polson woman was sentenced at District Court in Polson on March 24 to the Montana State Women's Prison for 30 years with 20 years suspended for running over and killing another woman on Halloween. Sharon Lynn Whitworth, 56, pleaded guilty to one count of vehicular homicide while under the influence on Feb. 3. Prosecutor James Lapotka was asking for 20 years prison with 10 years suspended, while the defense was seeking 15 years with 10 years suspended.
According to court records, on Oct. 31, 2021, Lake County Sheriff's Deputy Jim Atkins responded to a report of a vehicle versus pedestrian on Huckleberry Lane southeast of Polson. Upon arriving, Deputy Atkins discovered a silver Cadillac with a deceased person underneath it next to a driveway, and a man bleeding from his face. The bleeding man told Atkins that he had just finished dinner when he heard dogs begin to bark and noticed a car driving through a field across the street from his house. He said his mother, Tonya Charles, 63, went outside and called law enforcement to report a possible drunk driver. The suspected drunk driver was acting impaired and yelling inside her Cadillac. Charles attempted to take a picture of the suspected drunk driver, and the driver accelerated over a gate and ran over Charles. The car kept going and dragged the victim across the driveway and pinned her under the Cadillac. Tonya's son attempted to reach into the window of the Cadillac to remove the keys from the ignition and the driver, later identified as Whitworth, punched him, causing him to bleed from his face. The son ran to his garage and retrieved a car jack in an attempt to lift the Cadillac off his mother, but Tonya Charles died of her injuries. A neighbor also witnessed the incident and corroborated the son's version of events.
Whitworth refused to participate in field sobriety tests. Law enforcement obtained a search warrant to obtain a blood draw. When interviewed by law enforcement, Whitworth allegedly admitted to drinking a lot that day. When asked by Lake County Sheriff's Detective Devon McCrea "on a scale of one to ten with ten being the highest, how intoxicated were you?" Whitworth allegedly replied "10."
An investigation showed that prior to striking and killing Charles, Whitworth allegedly had struck another vehicle, hit several trees, and ran over and killed the neighbor's dog.
Leroy Charles, Tonya's son, was merely feet away from his mother when she was killed and took the witness stand on behalf of the Charles family. He asked Judge Robert Whelan, who appeared remotely from Butte, for the maximum sentence of 30 years with no chance of parole, saying his mother was the backbone of the family. Barry Charles, Tonya's husband of 45 years also took the stand and requested the maximum as he tried to hold back his anger. Dora Charles-Corenlius, Tonya's daughter, testified that she now has no one to turn to during difficult times, and that she has had to assume the role of family matriarch.
Whitworth's attorney, Elizabeth Ehret, told the court that her client suffered a number of mitigating circumstances, such as being abused by a stepfather and then kicked out of the house at a young age for disclosing the abuse to her mother. She also stated that her client has no memory of the incident.
Sharon Whitworth read a statement in court accepting full responsibility and apologizing to the Charles family.
Whitworth will have to complete the state's alcohol treatment program. Judge Whelan said Whitworth will be 86 before she is no longer under the supervision of the state. Whitworth was given credit for the 144 days she has served since she was arrested on Halloween night 2021.