Judge Manley approaches retirement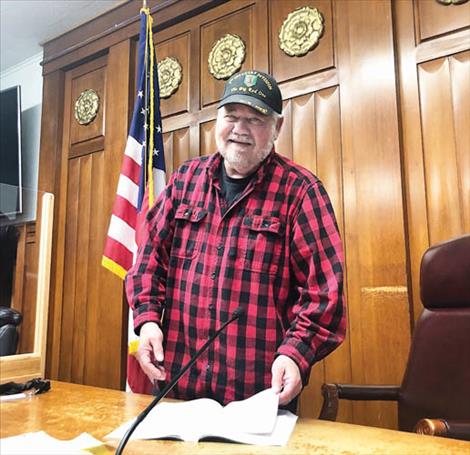 POLSON — For eight years now, District Court Judge Jim Manley has entered the courtrooms in Lake and Sanders County wearing the same black robe his predecessor, C.B. McNeil, wore for 29 years before him. The robe represents both tradition and responsibility.
"I never wanted this job," Manley says. "I didn't want that power over other people's lives."
But McNeil – a man he worked with for three decades, and often disagreed with politically – texted Manley back in 2013, "I want you to succeed me."
With nudging from other lawyers and judges he respected, Manley applied to replace McNeil as one of two judges in the 20th Judicial District and was appointed by Gov. Steve Bullock. He's handily won two elections since, in 2014 and 2020.
"What it represents to me, wearing that robe, is it's my turn now," he says. "It's my responsibility."
In just two months, however, the robe and all it represents will no longer be his. Manley plans to retire June 1, setting in motion the quest for his successor.
Sitting in the courtroom last Friday morning, attired in a ballcap and flannel shirt, the affable judge looks relaxed and ready for the retirement that he postponed nearly nine years ago. He reflects on the career path that brought him here, and the legacy he hopes to leave.
Manley grew up in Missoula, served in Vietnam, and graduated from the University of Montana with a degree in English literature. Initially, he aspired to be a newspaper reporter, unearth "all the scandals going on, and have enough independence to write investigative stories." But with a family to support, he taught high school English and journalism instead while taking night classes at Lewis & Clark Law School in Portland.
With law degree in hand, he was hired as deputy Lake County attorney and inhabited the office now occupied by his colleague, Judge Kim Christopher. He tried over 20 jury trials during his first year, and at least 100 since in the same courtroom where he now presides. During his wide-ranging career as a private attorney, Manley handled land disputes and family and criminal cases. His peers named him Montana Trial Attorney of the Year in 2009.
That swath of experience has helped him in his role as judge, overseeing as many as 1,000 cases at any given time – a workload that continues to escalate for judges across Montana. Indeed, experience is one of the qualities he hopes his successor brings to the bench. Other attributes on the list include integrity, common sense, a rigorous work ethic and compassion for the offender, the victim and the community.
Walking into the courtroom last Friday, Manley introduces the space with its elevated bench, flanked by flags and adorned with a large seal of the State of Montana, and 12 juror seats as a "temple of Justice." He might be grinning a little at the grandiosity of that statement, yet there's a sober undercurrent too.
"We may sentence somebody to 40 years in prison, or the death penalty in this room, or take somebody's children away, and people walk out of here accepting that."
Manley considers the right to trial by a jury of our peers, guaranteed by the Sixth Amendment to the U.S. Constitution, as one of the most significant and revolutionary aspects of that document (akin to the right to vote). "It means our community decides what's just, what's right in any given case."
"It's not perfect," he adds. "But most people who spend their lives doing this come to conclude it's probably the fairest system on Earth."
That said, Manley typically presides over just a handful of jury trials each year, due to the high number of cases and expense. He blames the escalating case load for judges and the legal system in part on the failed "war on drugs."
For at least half a century, the United States has focused on punishment instead of treatment for alcohol and drug offenders. As drug-related crime, addiction and child abuse continue to grow, legislatures in Montana and other states have cut spending on mental health and treatment programs.
"The idea is that we're going to scare addiction out of people," he says. Instead, taxpayers continue to foot the bill for a system that's ineffective and very expensive.
Manley estimates that each felony drug-related case in Lake County costs around $100,000 to prosecute. With up to 400 cases a year, taxpayers are shouldering approximately $40,000,000 in costs. "That's more than the budget for the Polson school district, or the county," he points out.
A few years ago, Manley concluded that "this is not so much a criminal court system as an addiction court system." With more than 90% of his cases driven by addiction, and a system geared toward punishment, he decided to take a different approach and established the Lake County Drug Court.
He toured the state first, looking at other models, before assembling a team that includes the judge, a prosecutor, probation officer, undersheriff, an addiction specialist and defense attorney. Grants from the Gianforte Family Foundation and Department of Justice helped them get the program up and running in 2015, and hire a coordinator.
Tribal Councilwoman Carole Lankford – a woman "with a heart as big as the Reservation," says Manley – also volunteers. The Drug Court oversees about 25 participants at any given time and has helped establish sober living homes for both men and women as they emerge from addiction and seek to build better lives.
With a 75% success rate, Manley hopes the program not only makes a difference for participants, but for their children as well, breaking a cycle of addiction, neglect and abuse that often stretches across several generations.
As he prepares to leave office, Manley worries about what he calls "the politicization" of the judiciary branch at the federal and state level, with increasingly vitriolic battles fought over the appointment of judges and efforts to undermine the membrane that shields their independence. In Montana, he says that trend manifests in recent spats between Republican officials and the Supreme Court and legislation that changed how district court judges are appointed, eliminating the bipartisan Judicial Nominating Commission in favor of a law that allows the governor to directly appoint judges from among candidates who need only meet minimal qualifications.
"It's very clear they don't like judges' independence and want a judiciary that looks politically like our current legislature and executive branch," he says. "That's contrary to the democratic system of government where you have three coequal independent branches, and the least political is the judicial branch."
For a system of government that relies on checks and balances to function, "it's a terrible trend," he adds. "And it's antidemocratic."
Beginning June 1, however, the fate of an independent judiciary is apt to take a back seat to fun. "I haven't had a summer off in 59 years," says Manley. "My aspiration is to act like when I was 14 years old and summer was by far the high point of my year."
The judge, a self-described "history nerd," plans to immerse himself in Montana history, travel and camp with his wife, Julia, and complete myriad half-done projects, including a crime novel. With a grandson playing in the Little League World Series, the couple is headed to Cooperstown, N.Y., in August by way of the Freedom Trail in Boston and other historic sites.
Closer to home, he and fellow history buff Dennis DeVries plan to venture to Wibaux, on the far eastern flank of the state, to locate the fifth of five mysterious grave markers sprinkled around Montana, dating back to the 1700s.
He also anticipates opportunities to serve occasionally as an acting judge or mediator around the state.
"I'm not going to be bored one hour in retirement," he vows.
However, he will miss the dedicated employees in Lake and Sanders counties who help him do his job. The clerks of court in both counties "are the best in the state," as are his judicial assistant, local election officials and law enforcement.
"They have a responsibility ethic. They're doing a really good job," he says. "I think it's because after 200 years of democracy, people really believe government should work, and they take it seriously."