Public comment heard over proposed Polson business license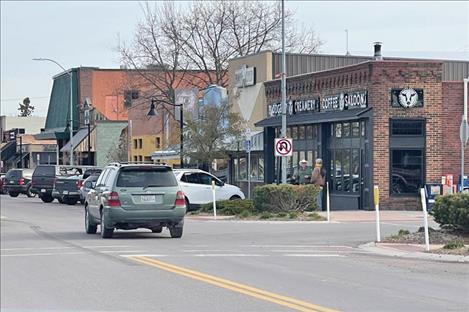 POLSON — Passions ran high during a workshop meeting for the proposed Polson business license on Wednesday, April 27, but ultimately settled into productive conversation about possible improvements and alternatives.
The proposal by City Manager Ed Meece and Assistant Fire Chief Kevin Straub, currently on its second draft, contained sections of broad language that had business owners within the city's jurisdiction concerned. Made largely of borrowed verbiage from other towns' business license ordinances, locals expressed worry that the wording and parameters did not fit Polson itself and would result in eventual bureaucratic overreach.
"We're open to all kinds of wordsmithing suggestions," Meece said, acknowledging that he and Straub are not overly experienced with proposal writing, but are receptive to narrowing the language down to protect owners from aggressive enforcement from future city management.
Other concerns voiced included the necessity of the proposed purpose of the license in a town without an abundance of fires, and where the lines would be drawn as far as grandfathering in safety parameters and frequent change.
"Yes, we are a safe community. But I'll tell you there are hazards here that we worry about," Straub commented. "Bowstring trusses. There are several in this town, and they are absolutely horrific. They kill firefighters. I want to know where every single one of those are, because I want to keep my firefighters safe." Additionally, he said he wants to make sure businesses are up to code for their own liability and safety reasons.
As for Straub becoming full time, he acknowledged he'll be spending many hours inspecting, but said the benefit of that will be that he's available, and very quickly. He'll have a fire truck with him, and he'll be able to respond to a fire, medical emergency, and other incidents much more quickly than a volunteer could respond from their home or work.
According to Meece, building layout information would also be collected during fire inspections – allowing first responders to approach incidents more safely and efficiently.
There are a lot of common walls and shared spaces for businesses in town, Straub pointed out.
"We need to have that knowledge. (It's) going to be great for us," Straub added.
As far as grandfathering, Meece acknowledged that they would work on that aspect of the proposal for its next draft. The city currently uses the ICC International Fire Code from 2018, but will have to update the 2021 version due to the state's requirement. How often businesses need to adhere to these updates, and which businesses will be grandfathered in will be determined at a later date.
The primary concern voiced by those in attendance was that license costs and fees could harm small businesses already facing challenging economic times. Several attendees expressed concern of being nickel-and-dimed out of business, being faced with exorbitant costs for updates they would not be able to afford, or being shackled with fees if they couldn't find a contractor to fix an issue within a timely manner.
Straub reassured business owners that the primary solution would be communication. As long as businesses keep in communication with the fire department regarding the steps being taken and send updates to show that solutions to violations are being pursued, owners will get plenty of chances. "We're not looking to hurt you guys in your pocketbooks," Straub said.
When asked about interpretation of code being varied between inspectors, Straub explained that the National Fire Code is well written to eliminate most possible gray area, but any question would come straight to the fire chief so responses would be consistent across the board.
Meece did point out that businesses are already held to the fire code and could face those same fines and costs with or without the license if a violation is noticed. The only difference presently is that the fire department doesn't have the capacity to visit all businesses on an annual basis. The new business license would allow for equal inspection for all businesses, Meece said.
As for the way in which they decided to propose the fee, by square footage, Meece explained that in their research they found many towns simply ask for a flat fee and give only a piece of paper in return expressing their "right to do business," and he felt that was unjust. So, instead, they were looking to correlate the cost of the fee with a service businesses would receive, and would be impacted by that business' square footage.
One attendee, however, proposed an alternative several in the room seemed receptive to: begin with the flat fee model for all licenses, unrelated to square footage, paired with an education or trial period before the inspection system would begin. In this period, the fire department could work with owners to address concerns and offer education to give them a chance to be proactive. This would also mean the situation for business owners wouldn't change overnight.
A checklist provided for business owners was also proposed, as many felt delving into the complexity of a national code that can only be read online or via the fire department's copy may be too big of an ask for owners. With a checklist, businesses would be able to more easily identify problems and work toward solutions.
"You'd be educating us, and then we'd have time," one attendee said of the idea.
Meece was receptive to the suggestion, though acknowledged there would need to be a known and agreed upon point of transition from the trial period to the full inspection implementation.
An attendee also proposed an improvement to the way TIFF district funds were allocated, such as a possible short list for grants to bring buildings up to code. The idea will be addressed with the TIFF district committee at a later time.
A few more points of clarification on aspects of the current draft of the proposal were also offered during the meeting:
- Businesses with multiple locations would not require multiple licenses, but all locations would factor into the overall square footage should that be the fee structure decided upon.
- Multiple businesses inside a shared space would be considered one business, and therefore require one license.
- A business inside a person's home would not require inspection, though one with a lot of commercial foot traffic would at least have a discussion with Straub about safety precautions.
- Whether a business renting a space or the building's owner would be on the hook for the costs of fire safety updates was undetermined; that would be a discussion between the business and building owner.
Ultimately, the proposal is still far from being brought to a vote by the city commission. The next draft, Meece said, implement feedback from the public meeting. Then, another public forum will be held to determine what still needs work. From there, more drafts and public meetings will be held before the proposal is brought to city commissioners.
"Our intention is to do this as a partnership," Meece said.
Meece and Straub also agreed to provide better communication about future meetings via the city's website and possibly even attach notices to business' utility bills. The next meeting is set for Wednesday, June 22 at 6 p.m. at Polson City Hall. Should this date change for any reason, it will be announced on the City of Polson website.