New executive director steps in at MWCDP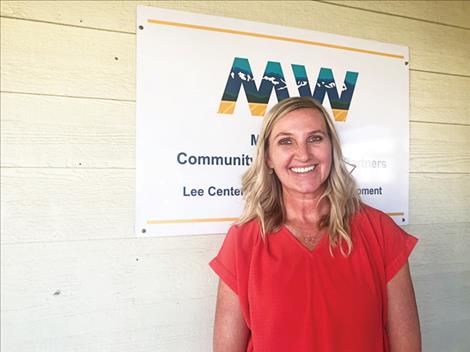 RONAN — As Heather Knutson-Walter steps into her new role as executive director of Mission West Community Development Partners (MWCDP), she brings decades of experience and a fresh, yet homegrown approach to the job.
"The neat thing about this position is that I feel like it's a real culmination of what I've done in my life so far, plus it offers a new and exciting challenge," she said during a recent interview. She began easing into the job Aug. 1, with the goal of taking over full time from outgoing director Jim Thaeden in a few months.
MWCDP is headquartered in Ronan and provides community and economic development services in three counties: Lake, Mineral and Sanders. The organization encompasses the Mission Mountain Food Enterprise Center – a one-of-a-kind food research, development and processing plant – as well as business, community and cooperative components.
Board chair Sjaan Vincent calls Knutson-Walter "the right person at the right time" to take the helm. "She has the experience, connections, understanding of our communities and the desire to make a difference."
Knutson-Walter comes to Mission West after serving as general manager at Simply 406, the parent company of nationally distributed brands Country Pasta and Tipu's Chai.
She grew up in Polson, where her parents, Dean and Linda Knutson, launched the pasta company nearly three decades ago. She earned a degree in business, with a focus on marketing, from Montana State University and went to work for an advertising agency in Billings whose portfolio included tourism promotion in Southeastern Montana and Glacier Country. She returned home in 2005 between jobs and was recruited to coach volleyball and freshman basketball at Polson High while helping her parents with marketing and product development at Country Pasta.
In 2006 – the same day she received a job offer to serve as executive director of the Billings Convention and Visitors Bureau – her father was diagnosed with cancer.
"I knew what I needed to do," she said, and as her father went through treatment she worked with production and sales managers at Country Pasta to grow the family business.
That experience feels familiar as she moves into her new job, "in the sense that I'm walking into a team that knows what they're doing – that's very experienced, very skilled, and very capable."
Country Pasta was eventually sold to Fred and Amy Kellogg, who added Tipu's Chai to the mix. The tea recipe originated with Bipin Patel, who served his grandmother's recipe at his restaurant in Missoula before turning it into a stand-alone company, utilizing the Food Enterprise Center in Ronan to develop his fledgling company.
Knutson-Walter's efforts to help grow Country Pasta and Tipu's Chai over the years give her insights into the processes involved in manufacturing, marketing and distributing food and beverages. From that standpoint, the food enterprise center "is an area I can relate to and provide a little more value to right off the bat."
"It's really nice coming in and having a portion of it be second nature to me," she added.
As to learning other aspects of Mission West, she says the staff has been very helpful and welcoming. Among her many daunting tasks is learning the acronyms for all the grants, government agencies and programs she'll be working with – "they've given me a glossary," she says with a grin.
Knutson-Walter also brings leadership skills to her new post. In addition to working as general manager at Simply 406 – a business of comparable size to Mission West – she served as Polson's mayor from 2014 through 2017 and has been active with the Polson Chamber of Commerce and other community organizations.
Her duties as mayor included forging community and commission support for a new wastewater treatment facility and the rate hike that helped fund it. While acknowledging it was a difficult task, she also enjoyed the process of listening to different perspectives and building consensus among stakeholders.
"I really liked being able to have a seat at the table, talking about issues and working through them and figuring out what we were going to do."
She hopes her new role offers similar opportunities to "identify issues, figure out solutions and come up with a project or new tangible item to bring back to the community."
Her term as mayor also helped her understand what information board members require to make informed decisions, and it gave her experience with the process of partnering with city and county governments.
Having spent most of her life in Lake County, she looks forward to learning more about Sanders and Mineral counties, which fall under Mission West's broad umbrella when it comes to economic and community development.
"I'm excited to be involved in these communities, learn more about them and what our role has been, and will be," she says. "How can we help the businesses, citizens and governments continue to make this entire three-county area a great place to live and work and play?"
She also hopes to use her marketing expertise to expand public awareness of the many facets of Mission West, including technical assistance, business loans and grant programs.
"I know this organization does great things for the community, but many people don't understand what it does," she says. "Part of my challenge is being able to share the stories and share what we can offer our communities."
In her first few weeks on the job, she's received lots of help and support from Thaeden, the rest of the Mission West crew, partner organizations across the state, and even former executive directors and employees.
"People have a passion for this organization as a whole – whether they're here now or have gone before, they want to see it thrive," she says. "Having that support network and those resources to reach out to is invaluable."
Knutson-Walter is married to Brad Walter and the couple lives in Polson with their two children, Rokton, 8, and Quaid, 5. Balancing a new career and family life will be demanding, she admits, but clearly, she's not a woman daunted by change.
She views her new role as "a great fit for my education and experience, but it also aligns really well with my values of entrepreneurship, growing businesses and having a healthy community," she says. "It feels like a challenge, but it will also be extremely rewarding and fulfilling work to do."