SKC announces new grants, opportunities for students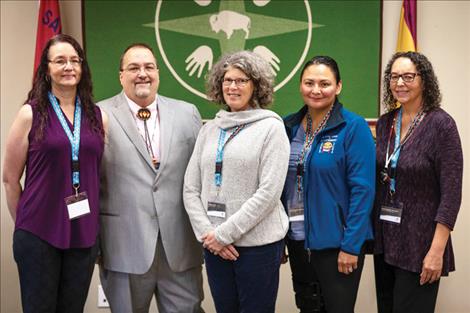 PABLO — SKC has recently been awarded several million dollars in grants for the next several years, which they intend to invest in students across a wide range of ages.
As part of a joint effort with the University of Montana and Montana Tech, in which SKC was the lead entity, the team received a National Science Foundation award of $4.5 million, $1.6 of which was allocated to SKC. A highly competitive grant, the college applied four times before receiving the award this year.
These funds, part of the "STARS" grant, will allow the school to award scholarships to academically talented low-income students in STEM fields over the next six years. According to representatives of the school, they plan to give out around 90 scholarships of up to $10,000 each to STEM students over the duration of the grant.
"At Salish Kootenai College, our students predominantly represent low socio-economic populations who are often required to simultaneously seek employment while attending classes to afford their education and support their families," said Vice President of Enrollment Management and Student Affairs Dr. Antony Berthelote. "Opportunities like this help students succeed without compromising their potential. The direct financial support to those with unmet needs also enhances equity and socio-economic justice by reducing the debt burden often encumbered by our student population."
Additionally, the college received a five year Upward Bound grant from a Native Youth Community Partner (NYCP), and a College and Career Pathways Project grant from the Department of Education. These grants will allow SKC to invest in eighth-12th grade students and help increase their knowledge of both opportunities and resources. The Upward Bound program will provide 87 students throughout the county with comprehensive college preparatory courses from tutoring to work-study opportunities. The Pathways project will include activities such as job shadowing, internships, dual enrollment options and college and career exploration and academic support for around 500 students in Polson and Ronan.
Altogether, SKC received over $6 million in grant funds to invest in students over the next several years.
"This is really great news because it shows a commitment to the whole range. A commitment to students in high school, plus a commitment to students already engaged in their college education," commented Human Resources Director Teresa Wall-McDonald. "It's like drawing a bubble around this student and giving them everything they need to be academically successful ... We're really excited."
To learn more about Upward Bound or the Pathways Project, please contact Program Director Heather Licht at 406-471-7249 or heather_licht@skc.edu. Students can also apply for STARS scholarships at: https://umt.edu/stars/default.php. The application deadline for 2023 is Nov. 20.