Containment on West Garcon fire estimated by weekend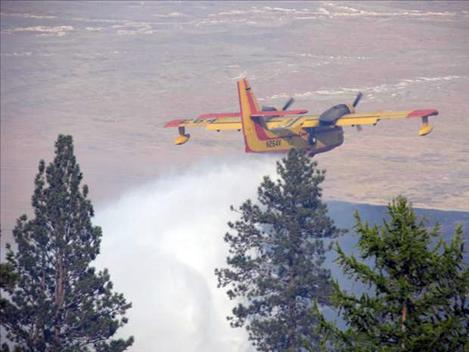 POLSON — The West Garcon, also know as Garceau, fire is "spider-shaped," according to operation chief Randy McKenzie. He attributes the spider's "legs" to gusty winds up to 30 miles per hour during the night of Aug. 14, which caused the fire to spread, quickly burning grass.
The fire is located about 15 miles west of Polson in the Irvine Flats area and was first discovered about 5:45 p.m. on Monday, Aug. 13.
McKenzie praised local firefighters from the Confederated Salish and Kootenai Tribal Division of Fire, Polson, Hot Springs, Ronan and Finley Point Fire Departments for fighting the flames during the night and saving homes.
Rick Kusicko's Northern Rockies Type II Interagency Incident Management Team took over the fire on Aug. 15.
The blaze had burned 9,863 acres as of 11 a.m. Wednesday, Aug. 22, according to an update by Jennifer Costich, public information officer.
West Garcon is 65 percent contained, and the management team is looking for full containment by Friday, Aug. 24.
Ranchers in the area have lost winter grass, haystacks and fences, but those with cattle have moved them away from the flames.
"The land is about an even mix of tribal land, the old Merritt place and even a patch of state land," McKenzie said.
Right now, one of the spots fire personnel are concentrating on is a bowl-shaped area near the northwest part of the fire, because of wildlife habitat and valuable timber. McKenzie said smoke in the last couple of days has been from controlled backfires burning out the edge between the dozer line and the hand line.
"Our goal is to put the fire out as quickly and efficiently and safely as possible," he explained.
Two CL 215 scoop planes from Minnesota visited the fire on Aug. 20, filling their 1,600-gallon tanks at Big Arm Bay and completing a run to the fire and back in five to seven minutes. Causing quite a stir with the locals, McKinley said the big scooper planes also dumped a lot of water on the fire.
With colleges and universities beginning the school year, hand crews are losing members. Because of this, the West Garcon firefighters are geographically diverse, with a crew from New York and another from Connecticut, joined by firefighters from Florida, Georgia, Maine and New Hampshire.
There's a lot of work still ahead, and the CSKT Division of Fire workers are looking at rehabilitation for dozer and hand lines on the west edge of the fire. The area is on patrol status, which means the fire is out and fire personnel check for hotspots or flare-ups.