Daines receives 'Friend of Farm Bureau' award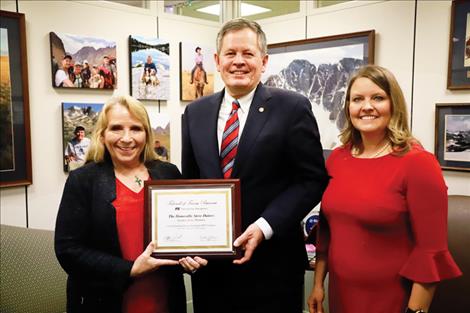 News from the office of Senator Daines
HELENA — On Dec. 13, Senator Daines was presented with the American Farm Bureau Federation (AFBF)'s "Friend of Farm Bureau" award recognizing his efforts to support Montana agriculture.
"I'm grateful to receive the Friend of Farm Bureau award from the American Farm Bureau Federation," Daines said. "Ag isn't only Montana's number one economic driver, it's part of our way of life. I will always be an advocate for Montana ag and continue to support hardworking Montana farmers and ranchers who feed not only our great state and nation, but the entire world."
Daines' award was presented by Nicole Rolf and Cyndi Johnson of the Montana Farm Bureau Federation.