Ronan City Council discusses revitalization, business licensing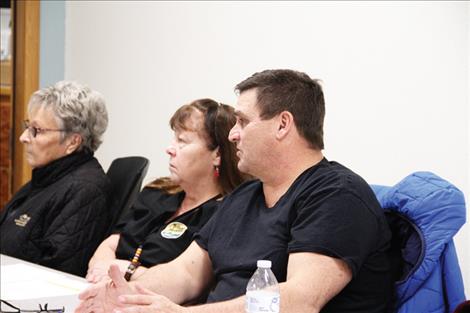 RONAN — The revitalization of Ronan continues to move forward as the Revitalization Committee prepares to hire a planning firm to establish the overall master plan.
At the Dec. 14 city council meeting, Whitney Liegakos of the Revitalization Committee shared that they have completed their draft Request for Proposal (RFP) for a comprehensive master plan to begin the revitalization process needed to receive funds from Montana Main Street (MMS).
Ronan received an offer of membership from MMS back in March – which offers technical assistance and expertise to member communities and awards competitive grant funding to communities actively working on downtown revitalization – along with the offer of an additional $50,000 grant from the organization that waived the funding match requirement from the town to let more major plans be built out for a downtown master plan.
Once the RFP is published in early January, a selection committee, potentially including a city council member, will choose a planning firm to work with - after a six-week deadline for firms to respond - to start establishing the city's master plan. As a grantee, the city will need to cover expenses itself until reaching $25,000, at which point MMS will reimburse Ronan.
The master plan will ideally include a summary of the community engagement process, an appropriate town theme, a map of community assets, visual representation of a revitalized downtown Ronan, infrastructure and conceptual designs for community development projects, plan implementation recommendations, and summaries of opportunities for growth, funding resources available, and how the MMS approach is being modeled in the plan and process.
"Most of the time, obtaining an actual master plan is a prerequisite to obtaining any grant," Mayor Chris Adler commented. As a good ground level document, the council agreed investing in a master plan would be to Ronan's benefit and showed appreciation to Montana Main Street for its assistance in making sure Ronan could actually obtain the grant it had offered.
"We need that guidance for us to see what's out there," council member Calvin Hardy commented. "I think to hook on with somebody that says 'no, hang on, we'll go through this together' will get (us) through it."
"They want to see our town succeed, that's why they've offered us this unique grant they haven't offered any other town," Liegakos agreed.
In other news:
- Discussions on a potential business license for Ronan remain ongoing to hammer out the specifics before bringing a proposal. Hardy shared some business owners asked what would happen if they didn't pay the possible fee, and they did not yet have an answer.
"It's going to be trickier than we thought," council member Lindsay Myers commented. "But really we're doing this to avoid the popup shops on Main Street that are essentially selling not great things next to schools."
Council members shared several businesses they spoke with did approve of the idea, and the Chamber of Commerce expressed interest in the idea to form a master list of businesses available in the area. For now, the council stated they aren't rushing in as they consider possibilities for the license, and may have a proposal in the next fiscal year.
- Ronan Police Chief Robert Jacobson reached out to the State of Montana to find out when marijuana tax money would be allocated to the counties, and was told Lake County should receive its funds Dec. 15. When Ronan gets its allocation of the money, Jacobson will propose a wage increase for Ronan Police to the council to help recruitment for two vacancies within the department.