Fire breaks out in Ronan shop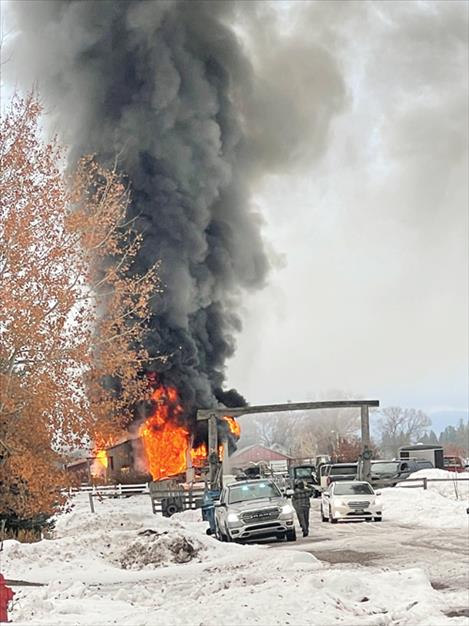 RONAN — A structure fire broke out off of 7th Avenue in Ronan at around 5 p.m. on Dec. 27. The structure was a 60x40 shop owned by Big Creek Plumbing where the business stored its supplies. According to Fire Chief Chris Adler, the fire began due to complications with a wood stove.
"I'd just put a reminder out there that wood stoves come with a little bit of maintenance," Adler stated. "You have to keep an eye on them, make sure that you are taking care of your wood stove, keeping the chimney clean and making sure that all of the pipe fittings are secure. Wood heat is the best, I know I've got it too, you just have to babysit it a little more."
As winter stretches on, it's important to remember to be fire safe. A few tips from local fire departments include:
— Don't plug space heaters into power strips or extension cords. Power strips aren't designed to handle the high current flow required by a space heater and can overheat, causing a fire.
— Don't try to heat your home with your oven. Electric ovens don't have the power to heat an area more than a few feet beyond the unit. Gas stoves won't do much better and could pump carbon monoxide into the home. Not only is gas flammable and causes a risk of explosion, it can also lead to poisoning that can be fatal.
— Remember to only burn debris during the legal burning season or with a burn permit. Burn early in the day and check weather for afternoon or next day wind conditions. Have proper personnel, equipment, and a water supply with you. Always make sure the area is cold to the touch before leaving. Check the following day as well to make sure no stumps or roots are holding heat that could reignite.
— The quickest way to extinguish a cooking fire is by first turning off the appliance and grabbing a lid to cover the fire. Remember to never try to put out a grease fire with water; smother it instead.
A final reminder from Adler was to make sure to clear the way for emergency personnel around the site of a fire. The Big Creek Plumbing fire was off of a one-lane road at a dead end, and the number of bystanders initially made things difficult for firefighters.
"I know their intensions were good, everybody just wanted to go and see if they could render help, but it impedes the emergency services," Adler said. "Nobody's going to do anything unless they've got a fire truck or something like that … Make sure that you've got a clear path for the guys going to put out the fire."