Polson student wins state competition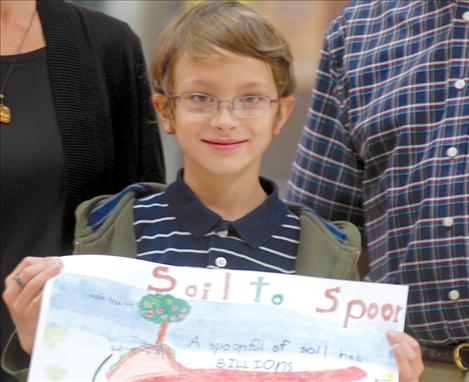 POLSON — Fourth-grader Jason Buffington's poster of an apple tree's cycle of life won the 2012 Montana Association of Conservation Districts poster contest after first winning the Lake County contest. His bright poster will be entered in the national contest.
"From soil to spoon" was the theme for the 2012 contest. At least 20 of Carla Farnstrom's Linderman School third graders submitted posters last spring, and Jason was one of those students.
The Lake County Conservation District chose a winner in May, even though Chris Malgren, LCCD Manager, said it was a hard decision since the posters were all good.
On Thursday, Jason was honored with a plaque and a gift card presented by Jim Simpson, LCCD chair. Simpson credited Christi Buffington, Jason's mother, with being a catalyst for the poster contest.
Jason's poster bested efforts from all 58 Montana conservation districts.
For 2013, the poster contest's theme is "Where does your water shed?" Entries are due locally in May.
For more information about the contest, go to nacdnet.org/education/contests/poster/
There are categories for students in kindergarten through grade 12.