Streetscape needs waste receptacles, funds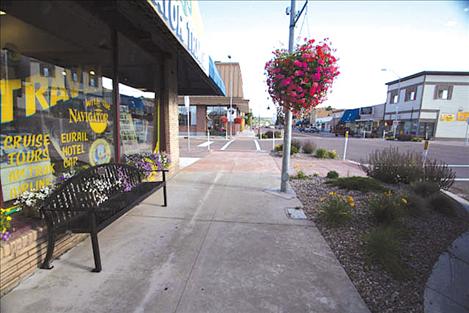 POLSON — With coneflowers, lavender and other native plants growing on the corners of Polson's Main Street and shiny new benches, waste receptacles and bike racks, the Polson Community Development Agency's Streetscape Project has made a lot of progress in downtown Polson.
But with events like the Flathead Cherry Festival, Cruisen' By the Bay, hoopfest, area powwows, the Polson Farmers Market and the Polson Triathlon bringing more people to Polson, the Streetscape committee needs 10 more waste receptacles.
The group also needs funds to replace trees and maintain the flowers and plants.
"Our big emphasis is to keep the bumpouts (corners) nice and well-groomed," said Jane Irwin, Streetscape committee member.
Four trees have been destroyed, according to Irwin, and they need to be replaced.
The group also thanks the City of Polson for installing the benches and waste receptacles, watered the plants and emptied the trash.
People interested in keeping Main Street beautiful can contact the PCDA Streetscape Committee at P.O. Box 758, Polson, or see the ad in the Sept. 26 issue of the Valley Journal.