Police rescue drowning woman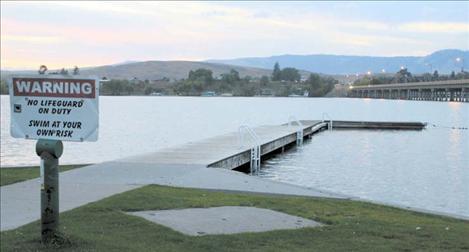 POLSON — Thanks to the quick response of local law enforcement, a distressed swimmer was safely rescued from the Flathead River last week.
According to a press release, the Polson Police Department, Lake County Sheriff's Office, Polson Fire and Polson Ambulance responded to a call Sept. 25 at around 1:42 p.m. regarding a female swimmer in the Flathead River near Riverside Park yelling for help.
Polson Assistant Police Chief John Stevens was one of the first to respond to the call.
"There were three of us who arrived there at the same time," he said. "I saw a person out in the water a little over 100 feet from the shoreline. My first reaction was that I was going to do what I could to rescue her."
Stevens and Lake County Sheriff's Deputy Clay Shoemaker took off their duty belts, donned life jackets and jumped in the water after the struggling woman. Stevens tied a throw rope onto his life jacket. The rope was held by one of the on-shore officers.
Shoemaker jumped off the dock and Stevens off the boat ramp. As Shoemaker had a bit of a head start, he was able to reach the female first and keep her above water.
"She was tired and extremely worn out," Stevens recalled. "I watched her go under (the water) a couple of times while we were swimming out to her."
Stevens reached the woman shortly after Shoemaker, grabbed both, and officers on the shore pulled all three to safety.
The woman swimmer was transported to St. Joseph's Medical Center for treatment and released shortly after. Responders found articles of her clothing at the end of the dock. While authorities would not release the woman's name, they did report that she is in good health and good spirits.
"It was a great team effort on everybody's part. I have to credit everyone involved," Stevens said. "We couldn't have done it without all the help we had."