PHS student to compete in national speech, debate tournament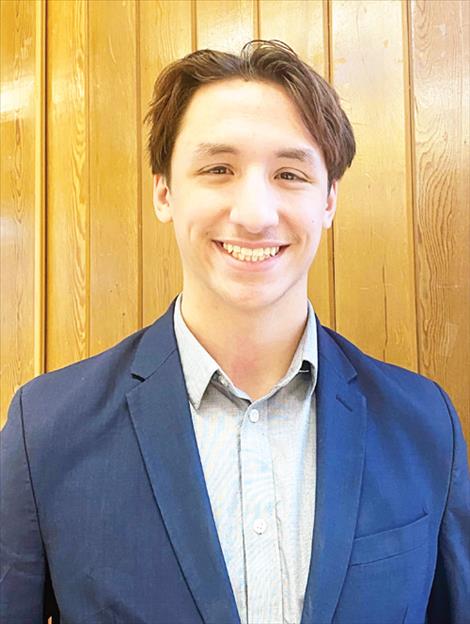 POLSON — Enrolled CSKT Tribal member Kai McDonald, 17, broke new ground for his school's speech and debate team this month. A junior at Polson High School, McDonald is the first ever to qualify to compete in the event's National Speech and Debate Tournament.
The Polson speech and debate team received a grant at the beginning of the season and rejoined the National Speech and Debate Association, which sponsors the national competition. Polson's entire team scored enough season points to qualify to compete in the national qualifier, and McDonald was the only one to reach the finals.
"You could literally see my heart pounding through my blazer," McDonald said. "I was nervous."
On Feb. 11, McDonald won first place for Humorous Interpretation at the two-day National Qualifier held in Missoula. He had already won the state title for Humorous Interpretation on Jan. 27-28 in Sidney, but qualifying to compete in nationals was a team achievement. As one of six members of the Polson speech and debate team, everyone had to perform well to even qualify to compete. Everyone placed high enough to earn entrance into the national qualifier that lumps A and AA schools together. Missoula, Kalispell, and Billings schools competed head-to-head with A schools like Polson and Ronan.
"I was grateful just to get to compete. I did not expect to become a national qualifier," McDonald said. "In the finals I was the only single A kid left in a sea of double AA kids."
Speech and debate Head Coach Melesa Butler said she couldn't be more proud of every member of her team. Competitors practice for hours and spend their Saturdays for three months traveling to meets, Butler said. It's a volunteer activity that takes courage and endurance.
"I have seen Kai in the hallways at meets working on his own piece, and also being there to support students from other teams. I have seen him give words of encouragement and suggestions to our own team members, as well as competitors from other schools." Butler said. "Kai is one of the first people to congratulate the winners, no matter which school they are from or what event they have competed in. Kai is currently our Speech Captain, and he fulfills the requirements of the position with confidence and poise."
The school newspaper, The Salishian, reported in its February issue that in 2013, speech and debate was a larger presence at Polson High School with 40 students participating. That number dipped to 15 in 2016 and currently the team is down to six people.
McDonald's category, HI, also known as Humorous Oral Interpretation, is described like this: Students locate a script either on the internet, or from a book or movie and edit it down to less than 10 minutes and 30 seconds. Then, by memory, you recite it as comically as possible. Think of it as a scripted comedy routine.
McDonald's piece was called "Movie Mania," which depicts a clingy movie clerk who greets customers in a video rental shop and offers many impressions to charm customers. Some of his favorite imitations were the "Terminator," and a quote from "Gone With the Wind" which McDonald said he "did bad intentionally to make it funny."
McDonald throws himself to the floor, leaps in the air and clicks his heels, and mimics an attack by multiple alligators while yelling out in a Cajun accent.
"I use as much of the room as I can," McDonald said. "It's definitely crazy and it's main purpose is to make people laugh."
McDonald performed that routine more than 30 times this season. He's asked by people how he memorizes something that long. He said it's about breaking it into small pieces. He admits his routine is different than his competitors. While others use multiple characters, he depicts one person doing multiple impressions of varying quality.
His theater background helped him excel in this category.
"I'm comfortable in front of an audience and I'd developed a better sense of interpreting a script," McDonald said.
To date, McDonald has acted in four Port Polson plays, and three times he played a lead role. He's also done three high school plays. In June, he'll be traveling to the National Speech and Debate Tournament in Phoenix.
"I'm excited for it. It's an opportunity that I never thought I'd have. I used to be the kid that never said much. Now I'm going to perform in front of a large crowd. I'm nervous but I'm looking forward to it." Details are still being worked out about the tournament.
McDonald is the son of Caroline and Robert McDonald. His grandparents are Wyman and Thelma McDonald of Ronan. His other grandparents are from Indiana, Lloyd and Becky Sexton.
McDonald's big brother, Joseph McDonald, was also a state champion in Debate. In 2020, PHS graduates Davis Smith and Joseph McDonald were state champions in Public Forum debate. The debate team was not able to compete to be in the national qualifier then but times have changed. Assistant Speech and Debate Coach Brett Butler wrote the grant that ended up funding rejoining of the national society.
"We've never gone before so I have no idea what's going to happen. I can prepare my piece the best I can and just have fun," McDonald said. "I am so appreciative of the support we received so we could even be considered for nationals. I wouldn't have this chance without that grant and the performances from everyone on the team that qualified us to compete."