Proponents of I-166 denied debate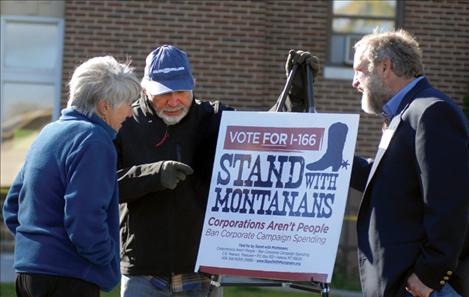 POLSON — A cold wind was blowing as C.B. Pearson and John Stromnes struggled to set up a table and a sign and keep brochures from blowing away. Pearson, treasurer of Stand with Montanans, had scheduled a time to discuss the role of big money in Montana politics around the flagpole at the Lake County Courthouse on Oct. 3.
Stand with Montanans is a group urging people to vote for I-166, and it collected 41,000 signatures to get on the ballot. Billed as "a common-sense, grassroots political action through the initiative process," Stand with Montanans and I-166's purpose is to establish a state policy that corporations are not entitled to Constitutional rights because they are not human beings, and charges Montana elected and appointed officials to implement that policy.
No one from American Tradition Partnership, the opposing group, showed up to debate Pearson, and no one has during the eight-stop tour through Montana.
"It's hard for someone to get up with a straight face and say, 'Of course corporations are people,'" said Stromnes, a rural Polson resident.
Montana elections are under assault from big money, Pearson said, particularly the Jon Tester/Denny Rehberg race for the Senate.
Montana has a long history of dealing with money buying politics. Pearson noted that in 1912, Montanans approved the Corrupt Practices Act, banning corporate money in elections. The copper barons had dominated Montana politics with their vast wealth and control of the newspapers.
Corporate personhood really shows its impact with its political checkbooks, Pearson said. Corporations can contribute to a campaign Political Action Committee, just like they would purchase lumber or cars. Some PAC do not even let the candidate know they are sending out literature, as in the case of the primary campaign in Senate District 6 between Carmine Mowbray and Janna Taylor.
Literature handed out by Stand with Montanans noted the U.S. Supreme Court decision on Citizens United vs. FEC in 2010 opened the floodgates for corporate money.
In that decision, the court ruled that corporations have the same rights as people and that their unlimited corporate political spending equates to Constitutionally protected free speech, and a Montana district judge ruled Montana's Corrupt Practices Act to be unconstitutional in light of the Citizens United decision. Although the Montana Supreme Court reversed the lower court ruling, the U.S. Supreme Court issued a summary reversal, throwing out Montana's 100-year-old ban on corporate campaign spending.
On Oct. 5, U.S. District Judge Charles Lovell ruled in favor of American Tradition Partnership and other plaintiffs, throwing out Montana's contribution limits as unconstitutionally low.
For more information, go to the website www..StandWithMontanans.org.