Grant to refurbish fairgrounds grandstands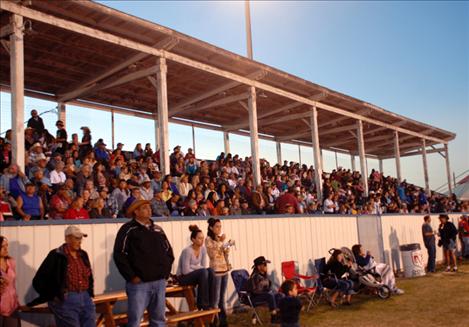 POLSON — With rodeos, concerts, fireworks viewing, rodeo camps and cross-country meets, the Polson fairgrounds grandstands seat a lot of people every year.
While the underlying structure is sound on the 70-year-old grandstand, the benches, walkways and decks are in need of replacing.
Polson Fairgrounds Inc. recently received an $80,000 grant from the Montana Office of Tourism to do just that.
The fairgrounds, originally donated by Polson businessman and philanthropist Hilbert Hanson for a "public rodeo grounds," were starting to deteriorate. The PFI leased the fairgrounds in 1984, and volunteers have donated hundreds of hours of volunteer time to preserve, maintain and improve the fairground property and keep it operational, according to the PFI website. The Polson fairgrounds receive no tax money to maintain the property; the tax money goes to the Ronan fairgrounds.
Since it's run by volunteers and fundraisers, before the PFI could even think about refurbishing the grandstand, they had to raise $40,000, since the tourism infrastructure investment grant was a two-for-one-matching grant. Over several years, the board raised the funds through silent and live auctions at the annual Cowboy Ball, concessions stands at rodeos and revenue from other events.
Three PFI members, Una Rose Graham, Toni Burton and Sharon Procopio, novice grant writers all, wrote the grant.
"What we are going to do is take off all the seats, walkways and decks and replace them with wood," Graham said. "To go any other way (such as using Trex materials) is too much money."
Two rows of seating are not under the roof of the grandstand, and the PFI members plan to replace the wood decking there with concrete and may also make concrete seating, although the seating is still under discussion.
PFI already has bids from local contractors who have supported the PFI and hope to get started on the project this fall. The entire grandstand project will come in at $120,000.
The funding for TII grants comes from the lodging tax collected across the State of Montana. For the last couple of years, the Montana Office of Tourism has had $550,000 available, and money must be spent on tourism-related projects. It helps Montana communities build tourism in their areas, entices people to visit, stay and recreate.
The fairgrounds had a busy summer, with at least three concerts, a rodeo Bible camp, fireworks viewing on the Fourth of July, the Polson PRCA rodeo, the Indian National Finals Tour rodeo, the United Indian Rodeo Association rodeo, the Polson High School rodeo and the Polson High School cross-country meet, to name just a few activities.
The PFI's next fundraiser will be the Cowboy Ball in April.