Republicans win big in local races, Jayne voted JP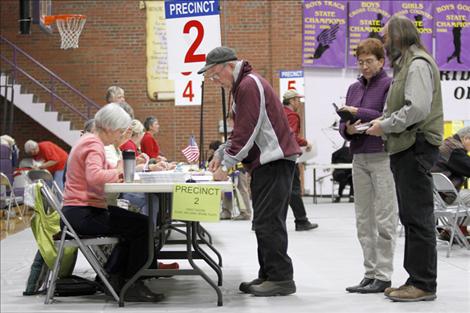 LAKE COUNTY — The nation's voters poured into polling places on Nov. 6, and Lake County appeared to be no exception to the exceptional turnout. Unofficial results show Republicans winning nearly every local race for the state legislature, with the exception of House District 15, where Democrat Forrestina "Frosty" Calf Boss Ribs took back her seat from incumbent Joe Read (R-Ronan). Incumbent District Judge Deborah Kim Christopher defeated challenger Thomas Kragh, and Republican Gale Decker triumphed in the race for Lake County Commissioner-District 3.
With 12 candidates on the ballot for Lake County Justice of the Peace, the votes were spread thin, but Joey Jayne pulled out a narrow victory over Rick Schoening and Steve Kendley.
Lake County election results
District Court Judge, District 20, Dept. 2
Deborah Kim Christopher: 7,566; 69.04%
Thomas A. Kragh: 3,363; 30.69%
State Senator, District 6
Janna Taylor (R): 4,273; 54.59%
Nancy Lindsey (D): 3,508; 44.81%
State Representative, District 11
Greg Hertz (R): 2,411; 63.94%
Bud Koppy (D): 1,340; 35.53%
State Representative, District 12
Daniel R. Salomon (R): 2,351; 60.64%
Luke Walawander (D): 1,516; 39.1%
State Representative, District 15
Forrestina "Frosty" Calf Boss Ribs (D): 1,169; 50.41%
Joe Read (R): 1,139; 49.12%
State Representative, District 9
Scott M. Reichner (R): 970; 59.91%
Rodrick Brosten (D): 645; 39.84%
Clerk of the District Court
Lyn Platt Fricker (R): 9,128; 96.14%
County Commissioner, District 3
Gale Decker (R): 7,425; 68.45%
John Swenson (L): 3,271; 30.15%
Justice of the Peace
Joey Jayne: 1,970; 18.41%
Alan Booth: 451; 4.21%
Ron Boyce: 504; 4.71%
Dennis DeVries: 675; 6.31%
Ed Jonas: 226; 2.11%
Steve Kendley: 1,395; 13.04%
Daryl Kerr: 484; 4.52%
Kathleen O'Rourke Mullins: 1,039; 9.71%
James Raymond: 628; 5.87%
Sharon Richardson: 1,137; 10.63%
Rick Schoening: 1,837; 17.17%
David Weinandy: 305; 2.85%