Century-old sewage pipe kinks Ronan water improvement project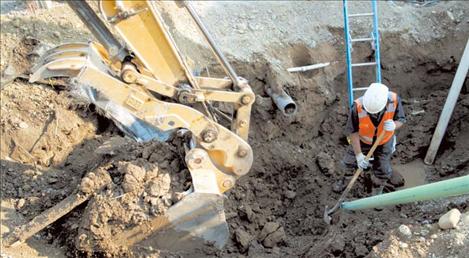 RONAN— Ronan's water improvement project hit a smelly snag Monday during the construction of a new water main.
The snag, according to Ronan's water improvement project labor compliance manager and grant administrator Roland Godan, was a 100-year old wooden sewage pipe running down the alley between Main Street and Round Butte Road. The sewage pipe was originally a pressurized water main but had been converted into an 11-inch raw sewage pipe some time ago and was still in use.
While the pipe was on city maps, officials were unaware of its condition prior to excavation.
"It was probably the first water line after the city was incorporated," said project manager Shari Johnson.
Not only was it made of 100-year-old wood, the wooden sewer connections that branch off to surrounding buildings rest at different angles and heights throughout the line. Many are sealed with concrete, and it was evident to Johnson that the pipe was no longer watertight.
In addition, it was never properly graded to allow a downhill flow.
Local residents had complained about sewage backup in the past, and this recent discovery may shed some light as to why.
The pipe was never set to grade, as water mains are pressurized systems and thus do not rely on gravity. An apt analogy would be to compare a water main to a garden hose. Even if laid uphill, water will still come out of the nozzle.
In comparison, a sewer line is like a rain gutter on a house. There's a starting point and an end point, and the excrement travels by gravity from one end to the other — downhill.
The discovery prompted a need for immediate action, as the pipe will have to be replaced.
"It would not have been able to pass current health standards, as it would have shared a trench with the new water line," Johnson said.
Ronan's water improvement project is split into six sub-projects. Johnson said Phase 1 required more funds than expected and took up the funding for schedules 5 and 6. Schedule 4 had enough funds to be completed, but the monies were not awarded to bidding parties in an effort to keep some money in reserve, should construction run into a problem. According to Johnson, the recent discovery qualifies as just such a problem.
"This ultimately means that we need to divert money that would have replaced additional mains in town to fix the sewer," she said.
Schedules 5 and 6 involved replacing water mains on Adams Street on the east side of town and on Franklin and Second Street on the west side of town. These funds were taken up by Phase 1. Phase 4 was to replace the water main in the alley south of Main Street.
Money which would have been used on Phase 4 is now being diverted to replace the old sewer pipe, which will cost about $220,000.
Godan was quick to praise the speedy action taken by government agencies to allow for these revisions.
"The government agencies we've been working with have been extremely fast to respond. By all rights, some of them have 30 to 90 days to respond to these requests," he said. "In this case, the notice of emergency went out from the engineer Monday morning. By Wednesday afternoon, we had all the approvals we needed to continue working."
These agencies include the United States Department of Agriculture, Rural Development and the Department of Environmental Quality. In some cases, the agencies responded overnight.
Godan said some individuals like to clean up old wooden water mains and use them as decorative pieces. As this particular water main was converted to a raw sewage pipe, Godan doesn't think anyone will be interested in the wood. He jokingly added the city is considering selling sections of the pipe as pre-fertilized flower pots.
Ronan's water improvement project began in 2008 when the Montana Department of Environmental Quality filed a report indicating Ronan did not have enough water storage, fire flow, supply or water treatment to meet regulations.
In response, the city green-lighted a five-year, multi-million-dollar project to renovate and restore Ronan's water system. The project is funded by the City of Ronan, loans, the Treasure State Endowment Program, Rural Development and the Department of Natural Resources.
Phase 1 of the project reached substantial completion three weeks ago when Intermountain Construction Services reported all components of Phase 1 were up and running, including a new water storage tank west of Ronan's hospital, a new well north of the fairgrounds and a new booster station on Terrace Lake Road.
Godan was happy to report that despite the snag, engineers and city officials were able to work within existing budgets, and plans to replace additional water mains around town will retain their approved status so they can be constructed in the future. Officials were able to act quickly, resolve the problem and continue construction within a matter of days, all without raising water rates for residents.