Community dinner returns to Ronan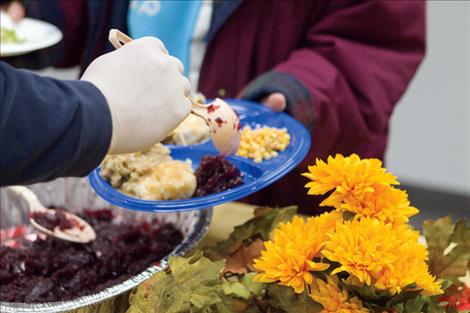 RONAN — Everyone is invited to Ronan's ninth annual community Thanksgiving Day dinner, Thursday, Nov. 22, at the Ronan Community Center. Dinner starts at 11 a.m. and will be served until 3 p.m.
Come enjoy a traditional Thanksgiving dinner with all the trimmings. Enjoy community spirit and wonderful music open to all.
Volunteers are needed; please call Brennin Grainey at 676-4600 if you can help. If you can contribute a cooked turkey, pie, rolls, paper plates or plastic silverware, please call Cheri Houle at 249-3184.
The community Thanksgiving dinner is brought to you by the Ronan Area Chamber of Commerce and the many other volunteers who make this day special. Financial donations are welcomed and appreciated. They may be given at the door or sent to: Ronan Area Chamber of Commerce, PO Box 254, Ronan, MT, 59864.