Polson man swims to avoid police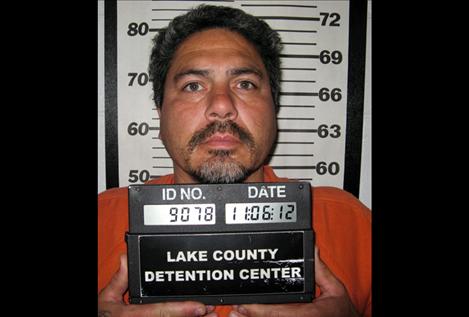 POLSON — Chilly water in Flathead Lake did not deter Todd Burland, 45, Polson, when he jumped into the lake at Boettcher Park as he was allegedly fleeing Polson Police.
The original call from dispatch was on Nov. 5 at about 7:35 p.m. to a Main Street parking lot where a vehicle was high-centered. While Corporal William Cleveland was investigating, Burland drove off, turning east on Highway 93 and reaching speeds of 45 m.p.h. before turning into Boettcher Park, where he drove his vehicle, a small pickup, into the lake. He exited his pickup and started swimming.
Cleveland and Polson Police Officer Scott urged Burland to come back to shore.
Cleveland said he and Tribal Law Enforcement Officer T.J. Haynes donned life jackets and jumped into the water to try to retrieve Burland.
They requested assistance from the Polson Volunteer Fire Department and asked that the fire department's rescue boat be launched. Two firemen and Montana Highway Patrol Trooper Anderson put on water rescue suits to assist.
According to a press release from the Polson Assistant Chief of Police John Stevens, Haynes swam approximately 200 yards into the lake to catch up with Burland, where they were both picked up by the fire department's boat.
Burland was transported to Providence St. Joseph Medical Center for evaluation.
Burland was later arrested and transported to the Lake County Detention Facility. He was charged with probation violation and a felony DUI, his ninth offense. Other misdemeanor and felony charges may be filed at a later date.