Mission Valley youth join first-time voters around country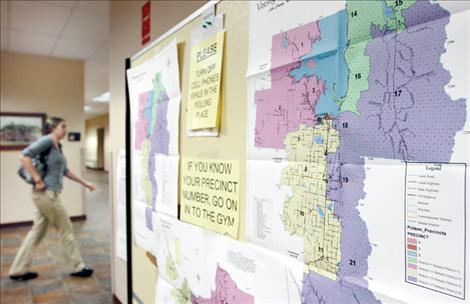 MISSION VALLEY — According to the New York Times, millennials, the generation of Americans between the ages of 18 and 29, made up nearly 19 percent of the popular vote in this year's election.
In addition, those between the ages of 18 to 24 voted 60 percent for Barack Obama and 36 percent for Mitt Romney, while those between the ages of 25 to 29 voted 60 percent for Obama and 38 percent for Romney.
The surprising truth behind these numbers is that no one saw it coming. Virtually every major news outlet and pundits on both sides of the aisle said America's youth was disenchanted with Obama. And while most predicted a smaller voter turnout in the millennial demographic, none predicted a landslide 60 percent victory for Obama among millennial voters.
Tra Ludeman and Barret Sargent have been good friends since they were 4 years old. Both recently turned 18 and voted for the first time in this election — Ludeman for Romney, and Sargent for Obama.
"I knew who I was going to vote for and what I was going to do, so everything was easy," Ludeman said of the experience. "The younger generation voting just proves that our generation knew what they wanted."
Ludeman said he wasn't happy with election's outcome, but believes everything will be all right and hopes Obama will do something to aid college students.
Sargent agreed with Ludeman, saying that the increase in voter turnout showed that his generation is taking a stand on and using their vote to help shape their future.
"Once I got in the booth I wished I'd been a bit more knowledgable about some of the candidates, but I was still able to make logical decisions," Sargent said.
While their political views vary, Sargent said the two would remain friends after the election.
"I refuse to talk politics around (Ludeman)," he said with a laugh.
He added that he believed the younger generation viewed Romney more negatively than they viewed Obama. He also brought up Romney's "47 percent" comment, saying he and his classmates had talked about it quite a bit in school.
Romney's 47-percent comment was made over the summer during a fundraising event. Behind closed doors and captured by a hidden camera, Romney said 47 percent of Americans were dependent on President Obama and the federal government for aid, and would vote for Obama, "no matter what." Sargent said this upset many of his classmates.
The comment was high-octane fuel for one of the nastiest political campaigns in history. Both sides ran massive amounts of negative political advertising in the most expensive political campaign in history. In all, candidates spent $4 billion on their campaigns.. Much of the money went toward negative campaign advertising that saturated the online, television and radio advertising market for more than 18 months. "I tried to ignore it as much as I could," Sargent said. "You know it's just one side trying to influence you, and I think all voters should ignore it. You don't know what's true and what's not."
According to unofficial election results from the Lake County Election Office, President Obama and Vice President Joe Biden attained 5,715 votes, while Romney and Paul Ryan earned 7,084 votes. This means that of the 12,799 votes cast in Lake County, Romney gained 55.34 percent of the vote, while Obama gained 44.65 percent of the vote.