Polson's bridge a fishing hot spot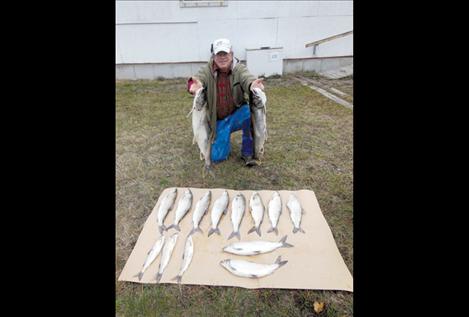 Fishermen,
I've become enamored with the fishing around the Armed Forces Memorial Bridge in Polson. The late spring, summer and early fall offer fishing for bait fish by the ton. The same abundant food source that draws the bait fish in warm conditions draws lake trout and whitefish in cold conditions. Fishing there for two nights in a row indicates the possibilities for a nice mess of fish if you're dressed warm and have the ice-fishing mentality to enduring the cold.
Most of the fish that I caught could've been taken within casting distance of the western shore north of the bridge. I've tried a variety of bait presentations but always go back to a pair of size 10 green LMR Specials baited with maggots above a green bottom weight.
Both the lake trout and the whitefish seem to be attracted to the shadow cast by my boat. Consequently, many of the fish I catch are right at the boat on short ultralight poles. To fish away from the boat, from the shore or from the bridge itself, medium action or an even heavier line on a larger reel will help you break free of the numerous snags on the river bottom.
Though I haven't caught big numbers of fish, this isn't indicative of the amount of action I've been having. Attempting to land whitefish and large lake trout using only a size 10 hook can at times generate a little frustration, but the challenge continues to draw me back. Using a free spooling technique where I reel with a big fish when it makes a run has served me well for years, so I thought I could handle anything a big fish could throw at me. But night before last, I hooked into a bruiser on an ultralight that beat me. He made such a strong, fast, extended run that I couldn't keep up with him, and to my disbelief, it broke me off. Lake trout have a tendency to stay in an area as long as the food source remains. I'm planning on heading back tonight to see if I can entice him into another duel.
Thanks to my lovely wife, Paula, I've been enjoying whitefish and trout filets dipped in egg, rolled in potato flakes and fried in olive oil, which is just the icing on the cake to the great time I've been having fishing under the lights at the Polson bridge.
The lake trout are in fall spawning mode in other places on Flathead Lake proper, with the areas from Bootlegger Island east to Bird Island on the south end of the lake preferred by these mature fish. Around Wild Horse Island is also a good possibility. The north end of the lake from Angel Point south to Cedar Island holds the most fish.
Throwing spoons into as shallow as 10 feet is effective if you keep your lure close to the bottom. Lead spoons or a tube on a lead head can help accomplish that. Bait is optional. Trolling with spoons or large spinners is also a popular approach.
It seems apparent that the large number of perch caught this summer in Polson Bay bodes well for a great ice fishing season on the east side of the bay, where the heavy vegetation provides cover and food for the pan fish.
I also intend to have all of my favorite perch lures produced in non-lead for fishing on Ninepipes and Pablo Reservoirs.
For more information, call us at (406) 675-0068 or email us at macman@ronan.net or check out our website at www.zimmertackle.com.
Good fishing,
The Macman