Retired Ronan teachers honored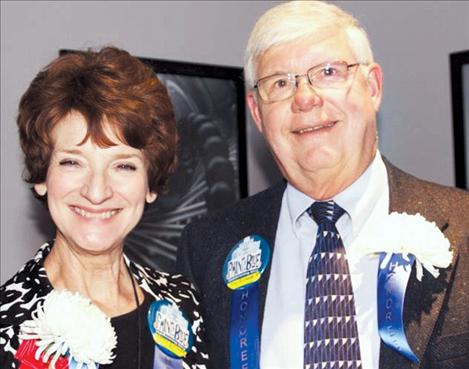 Former Ronan educators Jim and Cathy Gillhouse were recognized on Oct. 28 as distinguished educators and inducted into the Educator's Hall of Fame by their alma mater, Culver-Stockton College in Canton, Mo. The recognition took place during homecoming ceremonies.
Jim was a teacher in Ronan for 12 years and then served as principal at both K. William Harvey Elementary School and Ronan Middle School for 22 more years. During his years as principal at K. William Harvey, the reading scores increased significantly due to a strong emphasis on comprehensive reading reform. He and his staff members attended numerous national reading conferences and hosted workshops on reading reform and data collection.
Cathy taught music for 4 1/2 years in Charlo and 36 1/2 in Ronan Middle and High Schools. During her service in Ronan, she produced and directed the popular Cabaret show every May and also took her show choir to national show choir competitions and tours which included performing in Los Angeles, Calif., Denver, Colo., Seattle, Wash., Spokane, Wash., Minneapolis, Minn., and Edmonton, Alberta.
In retirement, Jim enjoys reading and researching history, especially American history and World War II history. Cathy is attending the University of Montana and plays the harp for the UM orchestra and wind ensemble.