Hit-and-run victim identified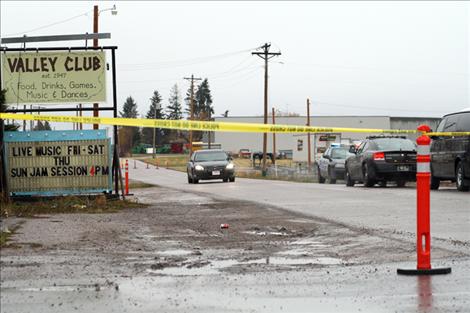 RONAN — County officials have identified the victim of a Dec. 11 hit-and-run in Ronan as 63-year-old Robert E. Vanguten.
According to a press release from the Lake County Sheriff's Office, Lake County 911 received a report of an unresponsive adult male lying in the parking lot a Ronan tavern around 8:15 p.m. Tuesday night.
Law enforcement personnel from the Ronan Police Department, Lake County Sheriff's Office, Montana Highway Patrol, Flathead Tribal Police and the Lake County Coroner responded shortly after.
Ronan Ambulance transported Robert E Vanguten, to St. Luke Community Hospital, where he was pronounced dead. Lake County Undersheriff Dan Yonkin said emergency personnel tried to perform CPR at the scene, but Vanguten was unresponsive.
Vanguten was struck by a vehicle which fled the scene of the crime before officers arrived.
Montana Highway Patrol, the Ronan Police Department and the Lake County Sheriff's Office are investigating. Several hundred yards of Third Avenue were closed to traffic into Wednesday afternoon time as investigators canvased the area.
"We have no eyewitnesses," Yonkin said. "The gentleman had been hit and was there for some time before someone found him."
Yonkin believes Vanguten was hit and killed by a vehicle within a half hour of 7:30 p.m. Tuesday, Dec. 11. After viewing the security footage from the Valley Club Bar and Grill, Yonkin said there was no evidence that Vanguten had gotten into an argument with anyone at the bar.
"It just looks like he left," Yonkin said.
Investigators continue to follow up on leads and are still interviewing bar staff and patrons.
"We're certainly still running things down," Yonkin said.
Yonkin said a toxicology screening was performed on Vanguten, but the results are still unavailable.
Montana Highway Patrol is assisting in the investigation since MHP has equipment to survey and measure the crime scene, giving a more accurate and detailed map of the area for investigators, according to MHP Trooper Shad Andersen.
"We don't want to leave anything out," Andersen said. "We're trying to cover all our bases."
Yonkin wants the hit-and-run driver to understand that he or she should contact police as quickly as possible. Letting the investigation drag on simply hurts the family of the deceased and causes a great deal of stress and anxiety.
"Do the right thing; come forward; tell us what happened," Yonkin said.
The public is asked to report any information that may be helpful in solving this case to Lake County Crimestoppers at (406) 883-7309.
Callers may remain anonymous and could be eligible for a reward.