Charlo sign gets luminescent upgrade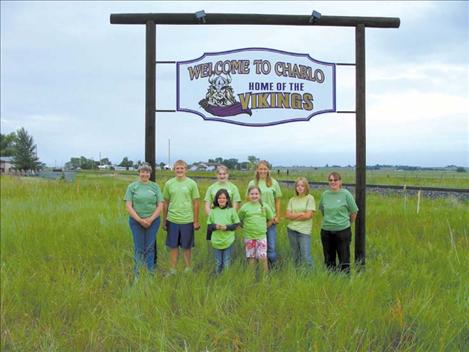 CHARLO — For those who take pride in their community, like Dawn Atchley and members of the Charlo 4-H Junior Stockgrowers, a "welcome" sign is an important aspect of the town. It's the first thing visitors see while passing through, and a familiar sight to those coming home.
With this in mind, club leader Atchley proposed an upgrade to Charlo's welcome signs on both sides of town. The project involved installing solar-powered lights to illuminate the signs at night and staining the signposts to protect them from the elements.
"It's the project the kids wanted to do, and the parents thought it was important," Atchley said.
Members of Charlo's 4-H Junior Stockgrowers club attained nearly $300 in funding from Blackfoot Communications. Scaffolding provided by the school district aided in construction, and club members said they had a great time with the build.
These types of projects are exactly why eigth-grader Kane Shenyer got involved in the program. Shenyer is a member of the Junior Stock Growers and bred a sow this spring, selling the piglets to ranchers throughout Lake County. Both the grand and reserve winners at the Lake County Fair came from his litter.
Even so, he wanted to try something different and found it in this project.
"There's a variety of things to do," he said. "You don't have to do just this one thing, you can do other stuff you do like."
Atchley said that beyond helping the community, projects like these instill valuable life lessons and skills along the way.
"The kids can learn how to work together, what it takes to finish a project like this, and gain a sense of what it feels like to do something for the community," she said.
The new and improved welcome signs can be seen in Charlo at all hours of the day. However, to best capture the extent of effort and time put into the project, curious visitors should drive through Charlo during the twilight and early morning hours.
"It really made them look a lot nicer. It's pretty cool," Atchley said.